Baby P hospital chief 'should have resigned'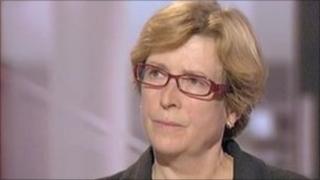 A government minister has claimed the chief executive of Great Ormond Street Hospital (Gosh) would have had to resign three years ago if the extent of its failings in the Baby Peter case was known.
Home Office minister Lynne Featherstone has refused to withdraw calls for a government investigation into the hospital and its chief executive, Dr Jane Collins, after accusing her of "covering up" the hospital's mistakes.
In the increasingly bitter row, the hospital demanded the Liberal Democrat MP back down, saying it had not "sought to mislead" when it withheld large parts of a critical report from the original Baby Peter inquiry.
But in a piece published on her website, Ms Featherstone has renewed her calls for health secretary Andrew Lansley to investigate and raised more questions about what Gosh kept from the first serious case review.
In a letter to Labour peer Baroness Blackstone, chairman of the Gosh trust board, Ms Featherstone says: "If the failures of Gosh had been known at the time that the serious case review was completed, it is inconceivable to me that the CEO of Gosh would not have been required to resign alongside (Haringey Children's Services boss) Sharon Shoesmith."
'Sub-standard doctor'
Ms Featherstone says a confidential report by two leading paediatricians uncovered "dangerous" practices at St Ann's clinic in Haringey, where Peter Connelly was examined by a Gosh-employed locum two days before he died.
Only half of the report by Professor Jo Sibert and Dr Deborah Hodes was handed over, omitting key findings and critical comments including the locum's lack of child protection experience.
Ms Fetherstone accuses the hospital of failing to investigate properly and ensure children's safety after Baby Peter's death.
She says Mr Lansley will want to establish why the hospital "actively ensured" the first serious case review was unaware it had employed a "sub-standard doctor" as a locum and then "not ensured she was adequately trained".
The locum was then appointed to a "substantial post" and had access to further child protection cases for nine months after Baby Peter's death, Ms Featherstone adds.
The hospital board says Dr Collins ordered the Sibert report as soon as she became aware of details in the post-mortem examination, which revealed the extent of Baby Peter's injuries.
But Ms Featherstone argues that the locum doctor's flaws were evident from her own notes of the examination, and the Sibert report did not have the post-mortem results, yet concluded that the doctor had scant experience of child protection and was working in a "clinically risky" environment.
The MP also raises fresh questions about alterations which the hospital made to the original Sibert report before first showing part of it to Ms Shoesmith, who chaired Haringey's Local Safeguarding Children's Board.
The hospital has claimed that all significant information about its doctor and its management of staff at the Haringey clinic were either shared with Ms Shoesmith or reflected in an action plan which it submitted to the serious case review panel.
A Department of Health spokesman said on Friday that Mr Lansley would be deciding soon what action to take.