Formula 1 team takes over Caterham Cars in Dartford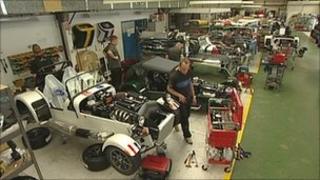 A sports car maker in Kent could develop new models after it was bought out by a Formula 1 racing team.
Caterham Cars, based in Caterham and Dartford and the maker of the Caterham Seven sports car, has been bought by Team Lotus Enterprise.
The Caterham Seven was driven by actor Patrick McGoohan in the 1960s cult television series, The Prisoner.
"It's a completely new dawn for Caterham," said Simon Lambert, motorsport manager for Caterham.
"We've got so much investment available to us now to expand on our product range."
The takeover will allow the company to develop new models which could mean more jobs he said.
Kent skillset
Although the investment means an opportunity to expand models, the company will continue to focus on the production of the Seven.
"The Caterham Seven is core to what we do and the skillset is here in Kent in this factory as it has been for the last 30 years," said Mr Lambert.
"So at the moment there is no reason to change - for the Seven I think we will be here for some time to come."
Half of the company's production is exported for sales across Europe, Japan and the Middle East. Now the company plans to expand to new markets, possibly China.
A spokesman for Caterham Cars said: "On whether or not the Team Lotus F1 car will be adorned with the Caterham name, this is looking increasingly likely."