Dartford crossing fee suspension proposed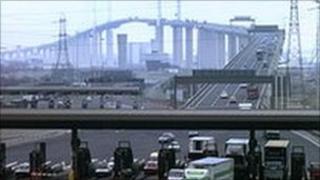 A six-month trial of the suspension of charges at the Dartford Crossing at times of severe congestion is being proposed.
The suspension would come into force "when the severity of congestion is such as to constitute an emergency" said the government consultation paper.
The paper, published by Mike Penning, the Under Secretary for Transport, also proposes a "free flow charging system".
Car drivers will see a rise from £1.50 to £2.50 come into force in 2012.
'Cash cow'
"The proposal to increase the charges at the crossing is both a measure to manage demand and to help to fund transport investment," said Mr Penning.
Gravesham Borough Council leader John Burden said the Gravesham Labour Party had been pressing to have the tolls removed altogether.
"This would get rid of the serious congestion currently experienced and it would also relieve local residents of the huge burden of paying the toll.
"The crossing has more than paid for itself but it is now treated by the Tory-led government as a cash cow," he said.
Consultation on the proposals will run until 23 September.