Southampton children's heart surgery unit consultation ends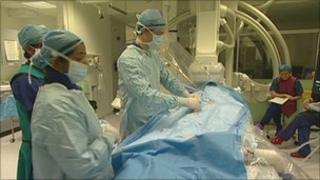 A consultation that could lead to the end of child heart surgery at Southampton hospital has finished.
It follows an NHS review recommending fewer, larger centres. Only one of four options would keep the unit open.
Patients from Oxford's John Radcliffe Hospital have been sent to Southampton for operations since it stopped doing surgery following a review in October.
Teresa Moss, from the NHS, said no decisions would be made until the evidence was thoroughly reviewed.
The director of the national specialised commissioning team added: "While the case for change is widely supported by medical experts, the NHS fully recognises these are not easy decisions.
"The NHS wants to ensure it makes the right decision for children with congenital heart disease in the future."
'Trail of excellence'
Surgeons from heart units overseas have added their voice to the campaign to keep the children's heart surgery unit open.
University Hospital of Bordeaux's Professor Francis Fontan said: "I sincerely hope that this unit, pride of English cardiac surgery, will not be considered for closure but instead will be allowed to continue its activities on the trail of excellence."
Doctor Barbara Deal, divisional head of cardiology at the Children's Memorial Hospital in Chicago, said, "The level of excellence achieved by the group in Southampton is not easily transferable to another centre, nor easily reproducible, based on my experience."
An NHS Safe and Sustainable spokeswoman said it was proposing to reduce the number of hospitals providing children's heart surgery from 11 to six or seven "to improve results for children".
She added: "Those centres that are not chosen to continue carrying out surgery would not close.
"Instead, it is envisaged that they may become children's cardiology centres providing non-surgical services such as diagnosis, assessment and ongoing care."
Of the 34,146 response forms that Safe and Sustainable received from parents, children, clinicians and hospitals, 8,133 were from the Strategic Health Authority's South Central England sector.
The findings of the four-month consultation, which ended on Friday 1 July, will be published in a report to help inform the Joint Committee of Primary Care Trusts before a final decision is made in the autumn.