Southeastern introduces new compensation scheme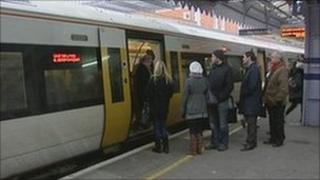 A new system designed to make it easier for rail passengers to claim back money if trains are late has been introduced by Southeastern.
The "delay-repay" compensation system came into effect on Friday.
It will apply to all ticket holders, and will entitle passengers to claim compensation if any journey is delayed by more than 30 minutes.
Managing director Charles Horton said it was a fairer arrangement than before as claims could be made straight away.
The scheme, which is already in place with many other train operators, gives compensation of 50% of the portion of the fare if a passenger is delayed by 30 minutes or more.
It gives 100% of the fare if the journey is delayed by more than an hour.
Passengers will be able to make claims either online or via a freepost leaflet available at stations.
Compensation will be paid in rail travel vouchers that can be used as payment towards another UK rail ticket, including season tickets in the next 12 months.
Punctuality target
Last winter, passengers affected by delays were not entitled to a payout as Southeastern had exceeded its annual punctuality target by 0.04%.
The company, which operates services in south London, Kent and East Sussex, ran an average of 82.04% of trains on time during 2010, beating the 82% target below which it had to pay compensation.
After the punctuality figures were released in January, some MPs and passengers demanded they were checked again.
An investigation by BBC South East also discovered the good punctuality figures for the new high-speed Javelin trains had pushed up the overall average.
However, an independent audit of Southeastern's train services found the punctuality figures to be correct.