Tory Boy takes on Sir Stuart Bell in documentary film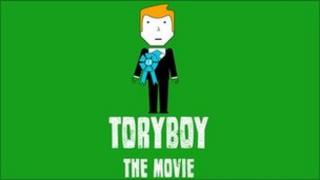 Sir Stuart Bell has won seven elections for Labour in Middlesbrough, all with healthy majorities.
He is not amongst the MPs who made outrageous expense claims, and he has been knighted for his services to parliament.
So why then is one film maker claiming his new documentary could force his resignation and a by-election?
John Walsh stood for the Conservatives against Stuart Bell in last year's general election.
He trailed in third, but during that time he filmed the whole process of being selected and fighting the seat.
Pretty hopeless
He was an unlikely Tory candidate.
The documentary maker was a lifelong Labour supporter. He says he became disillusioned with the party and decided to respond to David Cameron's decision to open up selection to non-party members.
He was selected at his first attempt to fight Middlesbrough - a pretty hopeless assignment for any Tory.
But Walsh says he quickly discovered that all was not well in Middlesbrough.
His film - Tory Boy - claims that Stuart Bell is effectively an absentee MP. According to the documentary, he doesn't hold surgeries, and spends considerable amounts of his time living in France. During the film John Walsh encounters people who say they don't see much of him in the town.
For Walsh then the conclusion is clear - Stuart Bell is not representing the people of Middlesbrough properly, and should be unseated.
Genuinely funny
To aid that campaign, he has held a free screening of the film in one of the town's cinemas.
I was there to see it, so just how powerful was his case?
The first thing to say is that it is a good watch. Walsh is an engaging character, and the film is genuinely funny.
It is astonishing that he was selected as a Conservative candidate so quickly.
And he certainly comes across people in Middlesbrough who feel they are not being represented properly.
But I'm not sure he quite nails down a case against Stuart Bell.
Constituency surgeries
Most of the evidence he presents is anecdotal. If you went to most towns, I'm sure you would find plenty of people who would say they never see their MP, or even don't know who they are.
I have heard people complain about Stuart Bell before, and the difficulties in contacting him (John Walsh tries and fails on a number of occasions to ring him in the film).
And it is true that Stuart Bell has not held open constituency surgeries for 15 years.
But he says that was due to being attacked during one. He says he visits constituents in their homes instead and responds to individual enquiries.
There is no legal requirement for MPs to hold surgeries.
The raw statistics do suggest he's not the most active MP in parliament, but then different MPs operate in different ways.
No connection
And John Walsh doesn't help his case with some of the content in the film.
He dwells on one particular allegation that local Labour party members taunted a Conservative councillor after she lost her husband.
It sounded an unpleasant incident, but as she makes clear, it happened 37 years ago and has no connection to Stuart Bell at all.
John Walsh also accuses Sir Stuart of failing to represent his constituents properly when Corus announced the decision to mothball the steelworks in Redcar.
Yet if you do an internet search you can find references to the MP attending rallies to save the steelworks, and commenting on the closure.
And then there is John Walsh's motivation. Is he a genuine Conservative convert or a film maker looking for a good subject? I'm not sure.
Real disengagement
His focus appears to be on Bell, rather than providing any solutions to Middlesbrough's problems.
But I do think the film has something to say about the state of democracy more generally.
There appears to be real disengagement amongst the people he meets in Middlesbrough. It is a constituency with a history of low turnouts.
And his attempts to channel any anger about Stuart Bell fail because the Conservatives run such a low key campaign. Walsh ends up spending much of his time helping out a candidate in the neighbouring target seat of Middlesbrough South.
I'd guess the Lib Dem campaign wasn't over-resourced either. Safe seats can get neglected by all parties.
But ultimately it is democracy that has the final say. Stuart Bell did lose significant amounts of support in 2010, but he still claimed 46% of the vote, and secured a seventh term with a majority of 8,689.
Middlesbrough film screening
John Walsh came third with 6,283 votes. The people of Middlesbrough did decide they wanted Sir Stuart to remain as their MP.
The converted Conservative hopes his film can achieve what he failed to - unseat Stuart Bell.
There were dozens of people wishing him well in that endeavour at the Middlesbrough screening.
But I suspect he was preaching to the converted.
Others are dismissive. Cllr Charlie Rooney, who leads the Labour group on Middlesbrough Council, said: "It's cheap publicity-grabbing. The people of Middlesbrough spoke and Tory Boy never got anywhere."
The real challenge will be whether Tory Boy can engage the large numbers of people in the town who clearly do feel disengaged and disillusioned with politics, and persuade them to do something about it.
Personally, I am not expecting an imminent by-election.
But I do hope John Walsh's film gets a wider audience, as some silliness aside, it is a thought-provoking insight into the way our political system works or doesn't work on the ground.
Stuart Bell has not so far directly responded to Tory Boy. But he is seen in the film criticising what he saw as John Walsh's "disreputable" general election campaign.