Thousands strike across England in pensions row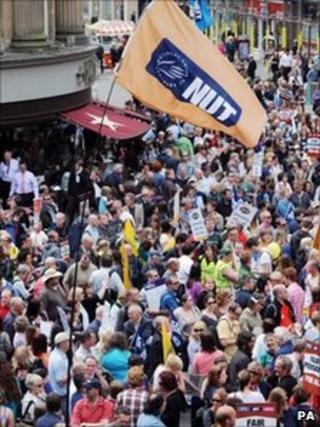 Hundreds of thousands of civil servants and teachers have gone on strike in England over proposed pension changes.
Rallies took place across the country, including in Manchester where 200 firefighters, who are not on strike, joined a march to show support.
More than half of state schools were shut or partially closed over reforms that public sector workers say will make them work longer and pay more.
The government said the plans were "fair to taxpayers" and necessary.
Up to 750,000 teachers, civil servants and other workers went on strike in England. Disruption hit airports, job centres, driving test centres and courts across the country.
London's Metropolitan Police said 90% of civilian staff who handled calls had not turned up for work, making response times slower.
The force said 335 police officers had been taken from their borough duties to cover night and day shifts for 999 call operators.
Met Police Commissioner Sir Paul Stephenson told a Metropolitan Police Authority meeting it meant "service to Londoners was necessarily degraded".
'Unjustified and unacceptable'
Almost all staff at the Passport Agency in Liverpool were striking, the Public and Commercial Services Union (PCS) said.
At the Criminal Records Bureau, 485 out 500 were on strike; while at the Ministry of Defence 485 out of 500 staff took action, the union said.
Meanwhile, up to 6,000 people joined a pension protest through Newcastle, a union leader said.
TUC regional secretary Kevin Rowan said: "It's a real show of strength because we have a fairly weak private sector, so any action by the government is going to impact more on this region.
"It is unjustified and unacceptable."
About 30 people were arrested at a march in central London, the Met Police said. The alleged offences included drugs possession and criminal damage.
Unions said up to 20,000 people took part in the demonstration which passed Downing Street and Parliament.
The Department for Education said more than 11,000 of its 21,500 state schools in England had been affected by the industrial action.
Christine Blower, National Union of Teachers (NUT) general secretary, said the "draconian changes" meant teachers paying more, working longer and getting less.
However, David Cameron has insisted the pension changes, being proposed for millions of public sector workers, would secure affordable pensions for decades to come.
The government said reforms were necessary because as people live longer the cost of funding public sector pensions was "unsustainable".
'Punish us'
In Greater Manchester, more than 550 of the 1,050 schools were closed or partially closed.
Bev Dickson, a mother-of-two from Sale who runs a financial recruitment consultancy, was among thousands of parents who had to take time off work or make alternative childcare arrangements.
She said: "While I sympathise with the teachers wholeheartedly, working in recruitment I've seen a lot of examples of people in the private sector having their pay and benefits hit - and unfortunately it's a sign of the time."
One of the London boroughs most affected by the strikes was Camden, where only four of its 58 schools were fully open.
Elsewhere, Luton teacher Steve Coghlan said: "I work in the public sector and I think we teachers, nurses, dinner ladies, lollipop ladies and people like that were not the cause of the crisis but the government want to punish us and rip us off."
And Rob Davison, a teacher at Dorchester's Thomas Hardye School, said: "We've had a wage freeze already, we're being asked to work longer and contribute more. Where's the tax on the bankers, where's the Robin Hood tax everyone's been talking about?"
In Lincolnshire, the county council said the majority of its schools remained open.
'Crisis of conscience'
Pupils in Norfolk were not affected because they had already been given the day off to attend the Royal Norfolk Show with their families.
Blackpool Pleasure Beach laid on extra staff, hoping some families would take advantage of the extra time to head to the attraction.
The PCS union said early indications from pickets suggested about 210,000 of its members, who include air traffic controllers and coastguards, went on strike.
However, the government said figures "from every government department" indicated just under 100,000 civil servants went on strike, meaning 75% went to work.
There was a picket line outside the MoD supply organisation in Arncott, near Bicester, which distributes supplies to front-line troops in Afghanistan.
However, Richard Kelsell, Oxfordshire branch secretary of the PCS union, said many members went work because they had a "crisis of conscience".
Meanwhile, the Maritime and Coastguard Agency said some coastguards were on strike but all coastguard stations were "operational and appropriately manned".