Chinese lanterns 'must be banned'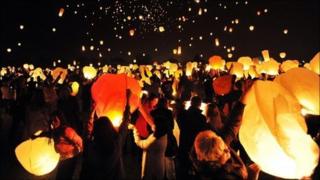 Celebrations turned sour at a 21st birthday when Chinese lanterns released to mark the occasion caused a large fire in barley fields.
Melissa Noton, a guest at the party in Stonesfield, Oxfordshire, previously liked the lanterns - but after the experience she is backing calls for them to be banned.
Fire brigade leaders are urging the authorities to take action after a blaze was sparked at the weekend when a lantern dropped on to a tonne of paper on an industrial estate.
And one householder has told how he battled to put out a lantern which was stuck on his roof.
The lanterns, originally a symbol of good wishes in ancient China, have become increasingly popular at weddings and parties in Britain where it is estimated about 200,000 are released every summer.
Usually made from paper or wire, they are carried upwards by heat from a flame, warmly glowing as they travel up to 30 miles before burning out.
Manufacturers say they are flame resistant and come with safety guidelines - but firefighters and farmers say problems from them are increasing.
Agriculture Minister Jim Paice said earlier this month people should "think twice" about using the lanterns because of the problems they caused in the countryside.
'Suddenly uncontrollable'
Ms Noton said at the birthday party near Woodstock last July, the lanterns were released at dusk as a "poignant reminder" of the passing years.
"We were going to release 21 before it all went horribly wrong," she said.
"The weather was a bit weird, it wasn't that windy but there were small, swirly gusts of wind.
"The lanterns were quite difficult to light and we soon realised we didn't want any children anywhere near them as they were large and unwieldy.
"One of the lanterns became stuck in the roof of the marquee but we managed to get it down and stamp out the flames."
Ms Noton said two other lanterns became stuck in trees and were pulled down with poles.
She was concerned how the lanterns "suddenly became uncontrollable" and were difficult to extinguish.
Ms Noton, who was at the party with her two young daughters, said it was "quite frightening".
She said guests were further alarmed when they saw a "red hue" in nearby fields and realised the lanterns had started a fire.
"It was quite a significant fire and there were a few fire engines on the scene," she said.
Oxfordshire Fire and Rescue Service said the lanterns destroyed seven hectares of barley crop and warned of the "potential damage" they can cause, particularly during dry weather.
Ms Noton said: "I can see no benefit to them and would like to see them banned."
Her view is shared by Chris Simmons, of south Bristol, who recently found a lantern wedged under his roof.
"The fuel was still burning and I hate to think what may have happened if I hadn't caught the thing," he said.
"This lantern had a structure built from incredibly thin metal strands which would be devastating for wildlife if ingested and that fuel block took several litres of water to extinguish - even when I'd destroyed the balloon and had tried stamping out the flames."
'Safe for consumers'
A sky lantern was also blamed for sparking a large fire at an industrial estate in Somerset on Saturday night.
Devon and Somerset Fire Service, which had issued a warning about such lanterns the day before, said a tonne of paper and printer cartridges caught fire after one of the decorations landed at the site.
The Chief Fire Officers Association (CFOA) recently warned people against releasing the lanterns, saying although they looked spectacular "once airborne they cannot be controlled".
The National Farmers Union said farm animals were dying after eating the metal wire frames.
NFU rural surveyor Louise Staples said: "The NFU is campaigning for lanterns to be banned, but in the interim for the responsible use of lanterns... they present a real danger to cattle and dry fields, as well as posing a litter problem when they land."
Many manufacturers say their lanterns are biodegradable and standard instructions warn they should only be used when the wind is light and be launched away from trees, airports, roads and areas where they could be confused with distress signals.
The Department for Business Innovation & Skills (BIS) said the lanterns were deemed safe under consumer laws. A spokeswoman said EU countries which had banned them had done so under other laws.
Meanwhile, the Department for Environment Food and Rural Affairs said a ban "had not been ruled out but was not being planned at the moment".
"We are warning of the dangers and asking people to use them responsibly," a spokesman said.