Castle Donington staff warned of job cuts at power firm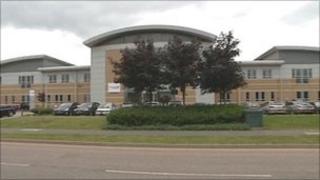 More than 800 jobs could be lost at a power company's offices in the Midlands, according to Unison.
The union said staff mainly based at Western Power Distribution's sites in Castle Donington, Leicestershire, and Tipton, near Dudley, were affected.
Between 640 and 837 staff are at risk, said regional organiser Andrew Johnson.
The Bristol-based company confirmed unions were being consulted about "staff reductions" but would not comment further.
Western Power Distribution's parent company PPL bought the former Midlands network operator - Central Networks - in April.
It now handles electricity distribution for the Midlands, South Wales and the South West, with responsibility for overhead lines, underground cables and substations.
'Restructuring exercise'
Mr Johnson said the proposed job cuts were part of a restructuring exercise designed to bring the two sites in line with the firm's existing operations.
He said: "We always understood there would be restructuring, but we have been taken aback by the scale of the job losses.
"We're concerned the company is using it as an excuse to cut costs.
"We'll be asking them to rethink and reduce the number of job losses, and avoid any compulsory redundancies."
He said the company was planning to make the changes to its workforce by September.
Staff based at the two sites work in a "huge variety" of roles including administration and research and development, according to Mr Johnson.
Western Power Distribution employs about 6,000 staff in the Midlands, South Wales and the South West.