Amy Winehouse's ex-husband jailed over domestic burglary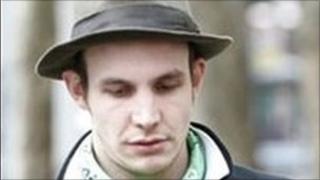 The ex-husband of singer Amy Winehouse has been jailed for 32 months for carrying out a burglary "while in the grip of heroin addiction".
Blake Fielder-Civil and Christopher Sylvester, both 29, raided the home of Paul Maplesden in Rawdon, Leeds.
The two men made off with electrical items, including an Xbox and DVD player, and jewellery worth £4,000.
Fielder-Civil has a conviction for causing grievous bodily harm and one for a drug offence in another country.
'Professional burglary'
Fielder-Civil, of Sleaford, Lincolnshire, and Sylvester, of Roundhay Park in Leeds, were equipped with a hammer, black tape, balaclavas and gloves when they raided Mr Maplesden's family home.
A fake handgun was found under the passenger seat of the car the two men had driven to the scene of the burglary but was not used in the daytime raid, Leeds Crown Court was told.
The fake firearm and haul of stolen goods were recovered after a policeman, who was on duty nearby, noticed the two men acting suspiciously and went to investigate, the court heard.
Mr Maplesden had left to go to work and his children were at school when the raid took place.
The items were stashed in the boot of the car and were recovered and returned to the homeowner.
Both men admitted possessing an imitation gun and burgling a dwelling.
Judge Scott Wolstenholme said the offences were "very serious", adding that they went equipped for a "serious, professional burglary".
Jailing them both, he said: "This case illustrates the depth people will sink when in the grip of heroin addiction.
"It is no comfort to people who are preyed on by drug addicts that the people preying on them are drug addicts."
Black tape
He said he accepted the fake weapon was not taken on the raid but remained in the vehicle and had been acquired by Sylvester to protect himself from drug dealers who had attacked him in the past.
Fielder-Civil mouthed "thank you" to the judge as he was sentenced.
Prosecuting, Alisha Kaye said: "A police officer saw the defendants walking up the road, he became suspicious and saw the two men disappear but reappeared in the car parked nearby. The defendants were sat in the car."
She added: "Mr Maplesden returned home to find his property had been burgled that teatime."
She said black tape had been used to alter the number plate on the vehicle.
Sylvester has 31 previous convictions, including offences involving drugs, violence and burglary.
Fielder-Civil, a former music video assistant, married Winehouse in May 2007 but the couple divorced in 2009.