Milly Dowler poems and letter 'gave misleading picture'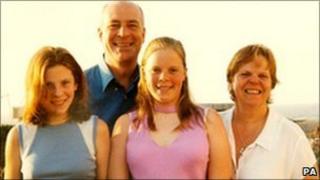 Milly Dowler's parents wept in court when poems written by their daughter, describing herself as a "disappointment", were read to jurors.
Levi Bellfield, 43, was found guilty of murdering the 13-year-old, who vanished in Walton-on-Thames in March 2002 while walking home from school.
The hidden poems and a "goodbye" letter were found after Milly went missing. They also suggested the teenager thought her sister Gemma was favoured by her parents.
Sally Dowler collapsed and had to be helped from the witnesses box after she gave evidence earlier in the trial.
She told the jury she did not recognise the picture the poems and letter painted of Milly.
During his closing speech for the prosecution, Brian Altman QC, said it was a "ludicrous theory" to suggest Milly had run away and was "dark or depressive".
He accused Bellfield of putting Milly's grieving parents on trial and described the 13-year-old as an intelligent girl who was in the top set at school.
Lucie Russell, of the mental health charity YoungMinds, said it was "very dangerous to draw any conclusions from what was presented in court".
She added: "The teenage years are a very turbulent time. There are hormones running all over the place and teenagers are faced with growing independence and lots of decisions.
"It can be a very frightening, isolating and lonely time. I think all teenagers go through some sorts of elements of this."
Ms Russell said it could be very upsetting if parents came across letters, poems or diary entries that gave an insight into a side of their child they had not seen before.
But she added: "Writing is a very therapeutic experience, everybody knows this whether you're an adult or a young person.
"Putting something on paper, it's something about getting it out there.
"It is very, very common. I think the vast majority of teenagers will write things, will use creativity to get out how they are feeling.
"It's not indicative of some major problem. It's cathartic really and it's quite normal."
'Withdrawn and isolated'
She said that because adolescence was a turbulent time parents and teachers needed to be aware of issues and offer support.
"You can't draw conclusions from one poem.
"I think what is important is that you keep the channels of communication open with the young person, with your child, and that you monitor the situation.
"If you see more poems or if you think they've become withdrawn and they seem isolated and maybe they're not eating or having problems sleeping and that's carrying on - you need to get professional advice."
Ms Russell added: "You've got to be vigilant but you mustn't overreact.
"It is a very fine balance. You can't be prescriptive about it and say that if someone writes a poem it must mean this, it could just be something that they are going through.
"I think what is very important here is that anyone who is around a teenager, whether it's parents, carers or friends or schools, are aware of looking for signs of distress and recognising those signs and making sure that they provide support and guidance."