Government scraps 'Shadow Mayor' plans for big cities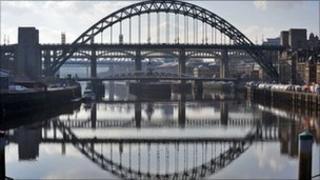 The government's decision to scrap plans to have 'shadow mayors' in 11 English cities will be welcomed by the politicians from all parties who have had qualms about the idea.
But where does the decision leave the coalition's vision for our biggest councils?
The government wanted to install the shadow mayors to give voters in those cities a chance to see how they would work.
They wouldn't have been new politicians, but just the existing council leader rebranded.
They would have been in office until May next year, when each city would have had a referendum on whether to have a permanent directly-elected mayor.
But the idea wasn't popular with some.
New mayors
In Newcastle, there has been little enthusiasm amongst politicians for the idea of having a full mayor, let alone a shadow.
Some saw it as a costly and confusing move, and largely unnecessary.
There were also concerns about the plans to combine the role of the new mayors with the council chief executive.
Critics suggested that placed far too much power in the hands of one individual.
That plan has also been dropped, although councils can still decide to do without a chief executive if they so desire.
The Conservatives though remain very keen on the idea of elected mayors - seeing it as a way of strengthening local democracy.
They look at the impact of Boris Johnson in London or Ray Mallon in Middlesbrough and see mayors as a force for good.
Traditional council
They are pressing ahead then with plans to have referendums in those 11 cities in May 2012, to see if voters want a directly-elected mayor.
But the decision not to have "shadow mayors" might damage the chances of a yes vote.
I'm sure the government had hoped the shadows would help people fall in love with the idea of having a mayor rather than a traditional council leader in charge of their city.
That chance has been lost.
And Labour want to see the plan scrapped altogether.
It is already possible for voters to force a referendum on having a mayor, but there seems to have been little enthusiasm for the idea.
Nobody has mounted a successful campaign for a referendum in Newcastle. The last time a vote was held in the North East was in Darlington, where the town overwhelmingly rejected the idea.
New Labour
If the referendums fail in Newcastle and the other cities then the government will have to go back to the drawing board.
It will also just be another chapter in the chequered history of the elected mayor.
Tony Blair and New Labour loved the idea when they came into office too, and several towns and cities voted to have one.
But when in 2002 the party lost out to a Conservative in North Tyneside, the local football mascot in Hartlepool, and ex-policeman Ray Mallon in Middlesbrough, they went cold on the idea.
Few new elected mayors have been put in place since.
So supporters of the mayoral system will now have to find other ways of convincing voters that it is a system worth adopting.
But if they fail to do that by 2012, the idea of it becoming widespread in our town halls might be buried for good.