Use of skunk cannabis 'growing' across South East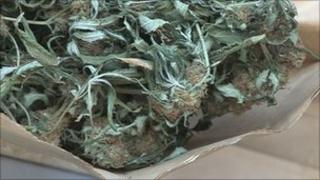 Growing numbers of people in the South East are using a form of cannabis believed to put users more at risk of psychosis than other forms of the drug.
In Hastings, Sussex Police said they had seized so much cannabis they were running out of space for it.
Most of it has been homegrown skunk - believed to be particularly damaging.
An undercover BBC reporter randomly bought eight samples of cannabis across Sussex and Kent. When tested, all were found to be homegrown skunk.
Steve Doswell, from Sussex Police, said: "We are starting to see people addicted to skunk cannabis - whether it is psychological or not is another story.
"But we're definitely seeing more people using heavy amounts of skunk cannabis.
"The biggest worry for me is that I'm beginning to deal with young people who are buying ounces of cannabis and selling it to pay for their own habits."
Psychoactive ingredient
He said there was a perception that "hippies" had smoked cannabis and were not all psychotic, but said skunk cannabis was "a different product" with higher potency.
In 2009, Dr Marta Di Forti and colleagues at the Institute of Psychiatry screened 280 patients admitted to their hospital with psychotic symptoms for the first time and found that most - nearly 80% - were heavy skunk users.
Experts believe skunk is particularly damaging because it contains more THC, a psychoactive ingredient which in experiments has been shown to produce psychotic symptoms like hallucinations and delusions.
Unlike skunk, cannabis resin contains substantial quantities of another chemical called cannabidiol or CBD and research suggests it can act as an antidote to the THC, counteracting its psychotic side effects.
The samples collected across Kent and Sussex ranged from 3% to 11% THC, but had extremely low levels of CBD.
After the samples were analysed, Dr Di Forti said: "You can definitely say that having an 11% THC and such low CBD in proportion to the THC will make it much more dangerous in terms of cognitive deficit, or likelihood to provoke psychotic symptoms.
"If there is a safe type of cannabis the one that you have seized is not safe at all."
Dr Di Forti's research, which was published in the British Journal of Psychiatry, claimed regular cannabis users doubled their risk of psychosis, but heavy skunk users increased theirs seven-fold.
But the experts also said drug use only accounted for the minority of cases of psychotic illnesses. Other risk factors, such as family history of mental health problems, played a far bigger part.
Alex Jacob, from Goudhurst in Kent, used skunk for five years and has blamed it for the onset of his schizophrenia.
He said: "It was mainly that I was smoking cannabis between 14 to 15 to [age] 21.
"It was the main thing I did and it did actually send me loopy before I had mental health problems.
"I was going off the rails because it was so strong.
"If I could live those years again I wouldn't have taken it because of where I am now."