Ex-cagefighter Vincent Graham jailed for cocaine plot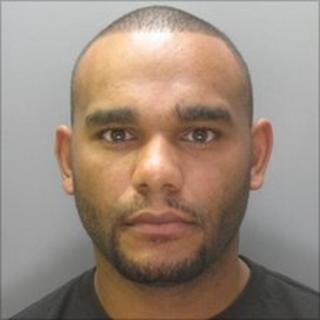 A one-legged ex-cagefighter turned drug dealer who lived a "lavish lifestyle" has been jailed for seven years.
Vincent Graham, 33, a father-of-10 from Southport, Merseyside, had earlier admitted supplying cocaine.
The court heard that Graham, of Linaker Street, was the head of an organisation which dealt cocaine smuggled into the UK from South Africa.
Two other men from Southport and a man from east London were also jailed at Preston Crown Court.
Paul Archer, 36, and Christopher Malpass, 26, both from Southport, were jailed respectively for three years and four years five months.
Sylvester Nkemakolam 46, from Hackney, got seven years and two months.
Lamborghini Gallardo
Graham was tracked for six months by police when he was renting a house close to Blackburn Rovers' training ground.
The court was told that searches at various premises owned or rented by Graham recovered £5,000 in cash, a number of high performance cars, motorbikes, jet skis, quad bikes, off-road motorbikes, electrical goods, jewellery and artwork.
Among the vehicles Graham drove were a Lamborghini Gallardo, worth more than £40,000, a Nissan Skyline, worth £35,000, and an Audi Q7 worth more than £20,000.
Nick Courtney, prosecuting, told the court: "Inquiries into Graham's financial affairs by the police revealed a lavish lifestyle wholly inconsistent with his declared income."
An examination of his bank accounts showed cash deposits totalling more than £35,000 and no evidence of the payment of household bills from his bank accounts.
"Although he is connected with two businesses, no accounts have been filed in relation to those businesses with Companies House and inquiries with HM Revenue and Customs show that he has made declarations of only limited earnings, which would not support his lifestyle," Mr Courtney said.
'Big shot'
Graham, who lost his right leg in a motorbike accident, was arrested after police filmed Malpass, also of Linaker Street, and Archer, of The Walk, engaging in a drug deal in Southport with Nkemakolam, a Nigerian national from Moreton Close, Hackney, on 28 May 2010.
The defendants were captured by secret police cameras and their mobile phone calls to each other were also logged as evidence of a drugs exchange.
The drugs seized as part of the operation would have had a street value of about £115,000, the court was told.
Philip Andrews, for Graham, said the motivation for his drug dealing was financial.
It was the failure of his car business which had led him into crime, his lawyer said, and his portrayal as a "big shot kind of criminal living the high life" was not accurate.