Tory MEP warns Cameron on government's 'leftward drift'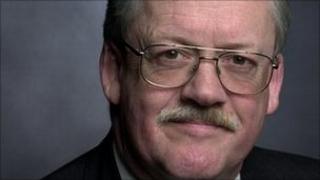 Tory Euro MP Roger Helmer is no stranger to controversy. But his latest book won't be David Cameron's favourite bedside reading.
The East Midlands Eurosceptic has railed against the Conservative leadership before, and has done again in his new book. It's appropriately entitled "Sceptic at Large" and is a classic Helmer swipe at his bête noirs from the European Union to climate change; the coalition to political correctness.
The book launch was the EU's London offices in Smith Square - once the home of Conservative Central Office, and now described by Helmer as "the headquarters of an occupying power".
For Helmer watchers, his book is vintage Roger. But it's his warnings to David Cameron on Europe that'll rattle Downing Street.
He writes about how the Prime Minister is "drifting away from core beliefs of the Conservative Party" - especially on the issue of holding a referendum on the Lisbon Treaty, which shapes the future direction of the EU.
"David Cameron reneged on his cast iron guarantee to hold a referendum. Now the Conservative High Command are keen to ingratiate themselves with parties that are our natural enemies," he says in the book.
And in a warning of the "leftward drift of the coalition", he fires off another salvo in the direction of Team Cameron.
"There's a willingness to sell out on principles held dear by our party's members," he added.
'Beyond reform'
He caused further controversy recently over his comments about sentencing policy for rapists. He wrote in his blog that a victim of date rape "surely shares a part of the responsibility".
There were calls for David Cameron to expel this controversial MEP from the Conservative Party.
He's been expelled before and later reinstated into the Conservative fold. Then, it was because of his high-profile Euroscepticism that proved too much for the party's group leadership in the European Parliament.
The dilemma for David Cameron is simple. Roger Helmer is popular among many traditional Tories. To rework a past election slogan of Michael Howard's: Roger says what many Tories are thinking.
On the EU, he adds in the book: "Such an inefficient, corrupt, anti-democratic system cannot survive. The EU is beyond reform. It deserves to be put out of its misery."
Roger Helmer wants the UK to quit the EU. That's not Conservative - let alone coalition government - policy.
If this outspoken MEP is a voice in the political wilderness, some of the Prime Minister's advisers will hope it stays that way.