Father's safety fears after Blackpool swing injury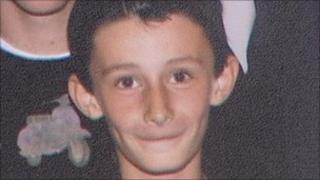 The family of a 10-year-old boy badly injured after being hit by part of a tyre swing in a Blackpool park, is calling for urgent safety checks.
Jamie Jackson suffered a head injury when the suspension mechanism on the swing became detached and fell.
Relatives recovered the swing from the ground at Claremont Park fearing it might be stolen or vandalised.
Blackpool Council wished Jamie a speedy recovery and said a full investigation could be carried out upon its return.
Mr Jackson's father, Greg, said he was alerted to the accident by two of Jamie's friends.
"I saw my son laid there with people around him, blood all over his face and clothes, laid in his own blood and I realised something bad had happened," he told the BBC.
Safety fears
Mr Jackson said his son was standing underneath the swing when it "gave way and hit him on the head".
The swing consists of a large tyre attached to a curved frame, suspended from a metal attachment by long steel chains.
Mr Jackson told the BBC that thousands of other parks across the country could have similar equipment that could prove dangerous.
"If all these pieces of equipment went up roughly at the same time in the same weather conditions, then there's a good chance they they are all ready for failing," he added.
Russ Weaver, assistant director of neighbourhood services for Blackpool Council, said: "It goes without saying that we wish Jamie a full and speedy recovery and that he is home with his family soon.
"The circumstances of the accident remain a little unclear.
"The police have commenced an initial investigation and they are in contact with ourselves and the Health and Safety Executive (HSE).
"The equipment has been dismantled and removed from the site and this is obviously making it very difficult for those involved in the investigation to determine what exactly has taken place."