Computer game developers gear up for Wii U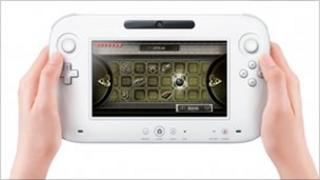 A Warwickshire-based games developer has signed a contract to be one of the first companies to make games for the Wii U, Nintendo's latest home console unveiled at the E3 video game conference in Los Angeles.
Blitz, a developer that caters for the mass family market, said it had already signed a deal with a publisher to make one game for the Wii U.
Due to commercial sensitivity, Blitz was not prepared to reveal any details of the game it is planning.
The firm, which is based in Leamington Spa, said it was also on the cusp of signing a deal with a publisher to develop two more games for the Wii U.
The additional contracts would secure the employment of its 200 or so staff and put it in a strong position to recruit in the future, as it hopes to ride on the coat-tails of the Wii U's success.
Nintendo hopes the Wii U, which will not be available to buy before next year, will help it regain the initiative from its rival Sony, which this week announced that its hand-held console, PlayStation Vita, is to go on sale later this year.
Wii sales have been slowing for two years, with overall Nintendo profits falling by 10% between April and December 2009.
In January the company revised its Wii sales forecast down by 1.5m and said it expected to sell about 16m Wii consoles in 2011-12.
Nintendo's latest offering boasts a 6.2in (16cm) touchscreen and front-facing camera, it can also broadcast high-definition video and be used to make video-calls and browse the web. The firm hopes it will help to claw back sales from Microsoft and Apple's iPhone and iPod Touch.
West Midlands-based games developer Codemasters also hopes to benefit from any success the Wii U might have.
The firm, which has a studio at Five Ways in Birmingham and a head office in Southam, Warwickshire, had its rallying game Dirt featured in the official demonstration of the Wii-U's capabilities at the E3 conference.
Nintendo said the footage for the launch demonstration was taken from existing Xbox and PlayStation 3 Codemaster games but the footage showed off the abilities of its new console well.
Codemasters, which employs about 500 staff, has been in talks with Nintendo about the Wii U since Christmas.