Bodies of Afghanistan death UK soldiers repatriated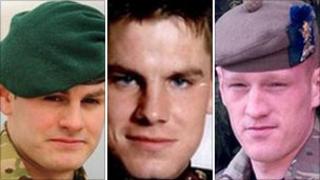 The bodies of three soldiers killed while on duty in Afghanistan have been flown back to the UK.
Cpl Michael Pike, of 4th Battalion The Royal Regiment of Scotland, died on 3 June in the Lashkar Gah district of Helmand Province.
L/Cpl Martin Gill, of 42 Commando Royal Marines, and Rifleman Martin Lamb, of 1st Battalion The Rifles, were both killed on 5 June.
The soldiers' bodies were repatriated to RAF Lyneham in Wiltshire.
'Devotion to duty'
After a private ceremony the cortege passed through the nearby town of Wootton Bassett, where it has become tradition for hundreds of residents and visitors to gather to pay their respects.
Cpl Pike, 26, from Huntly, Aberdeenshire, was fatally wounded by insurgents who attacked his patrol with guns and rocket-propelled grenades.
He died saving the lives of his comrades as he took on the enemy in a firefight, his men said.
Friends and colleagues of the father-of-two said he was killed "putting up a fight" and "saving the lives of the men he was devoted to".
L/Cpl Gill, 22, from Nottingham, was shot dead on a patrol in the Nahr-e-Saraj district of Helmand Province.
He had been taking part in a patrol in the Adensee area to meet local people and disrupt insurgents in preparation for future operations.
The Royal Marine had been providing cover for a comrade operating a metal detector to look for hidden Taliban roadside bombs when he was shot.
Rifleman Lamb died in a bomb blast while on patrol in the Haji Kareen area of the Nahr-e Saraj (South) district of Helmand Province.
His colleagues said his death had left a "gaping hole" in their ranks.
The 27-year-old father-of-one, from Dursley, Gloucestershire, had been deployed to Afghanistan in April.
The deaths of the three men took to 371 the number of UK military personnel who have died since operations in Afghanistan began in 2001.