Stephen Dorrell rules out return as Health Secretary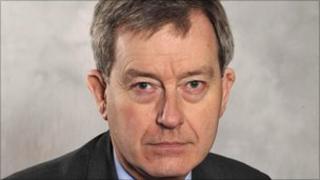 How is it that in politics a touch of casual bar chat can develop into a dead cert? My example is the speculation over a return to cabinet government of Charnwood MP Stephen Dorrell.
It has been fuelled because of Downing Street's discomfort over Andrew Lansley's planned reforms of the NHS.
The rumour mill kicked in: was Andrew Lansley to pay the political price and lose his job? Would Stephen Dorrell - a former health secretary himself - get the Downing Street call?
Well, I can reveal it ain't going to happen. I've had it from the horse's mouth. Stephen Dorrell himself has ruled it out. No ifs or buts... I think.
"I was elected at the beginning of this parliament to be the chair of the health select committee. I stood for the post because it goes through the full term of this parliament," he told me.
No vacancy?
So is that a definite "no" then Stephen? Should Andrew Lansley start packing his briefcase?
"Added to which, there isn't a vacancy. I've got a job to do. It's a very challenging job and I enjoy doing it and that's the position."
His attempt to kick away this speculation wasn't helped by David Dimbleby's teasing of him on the BBC's Question Time.
"Are you the next health secretary?" TV's question master-in-chief repeatedly asked him.
There's a hard political reality here. David Cameron may not want the return to his cabinet table of another veteran Conservative from the John Major era.
Ken Clarke's already given Downing Street enough political headaches recently.
Queue for office
Anyhow, accusations could fly around of a Prime Minister having to rely on "Tory retreads", especially from ambitious, fast-track "Cameroon" Tories who were part of last year's new intake.
There are also many seasoned Tory backbenchers, who feel they are denied ministerial office because of the Lib Dems.
Stephen Dorrell, as chair of the Commons health committee, has enough on his plate... and a very influential, high-profile parliamentary platform.
Over the next months his committee's looking at the reform of public health, how the NHS deals with complaints and social care provision. That's a big enough agenda in itself.
On the Prime Minister's changes to his health secretary's NHS reforms, the Charnwood MP accepts that resources are going to get tighter.
Health care fragmented
"Change is being driven in the health service by new medicines and new expectations, so change in the NHS is a fact of life," he told me in an interview for Sunday's Politics Show in the East Midlands.
"Too often health care is fragmented. There are separate parts of health and social care that don't talk to each other and don't relate to each other.
"They must, if we are to deliver the best quality. That's the type of reform the Prime Minister is advocating and I think, he's dead right."
"More integrated care is both better care and efficient care. The separation which currently exists between the hospitals, GPs, the community nurse service and social services is endemic and that is what urgently needs to be addressed," he added.
Through his committee, I suspect his main political ambitions now are to be a thoughtful counsellor to Andrew Lansley and future health secretaries.
Certainly, the Prime Minister and Parliament will find in Stephen Dorrell an intelligent, informed and approachable expert on developing future health care policy.