University for the Creative Arts plans fees of £8,500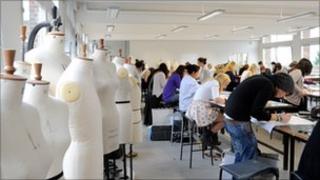 The University for the Creative Arts (UCA) is proposing tuition fees of £8,500 a year for its undergraduate courses from 2012.
The UCA, which is based in Kent and Surrey, said from 2012 it would be facing an 80% government funding cut.
UCA's neighbouring universities in Kent, Surrey and Sussex all plan to charge £9,000.
Professor Mark Hunt said the fees would be used to "provide students with a high quality creative arts education".
A total of 164 scholarships of £3,000 will be available to students applying to UCA in 2012, according to the university.
Professor Hunt added: "A creative arts education is an investment in the future. Because of our strong industry links UCA graduates have gone on to work for household names such as Nike and Ted Baker.
"Many distinguished practitioners began their careers at UCA including Karen Millen, Zandra Rhodes and Tracy Emin."
In March UCA said it had received a 7.8% government funding cut, which would rise to 80% in 2012, because the government had favoured "stem subjects" such as maths.
About two-thirds of universities want to charge the £9,000 maximum fees for some or all courses - and only a handful are offering all their courses below £8,000 per year.
All universities planning to charge more than £6,000 will need to have their fees approved by the Office for Fair Access.