World explorer Hempleman-Adams: 'I've been lucky'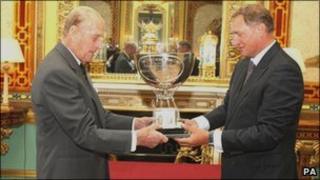 Adventurer David Hempleman-Adams has made about 30 Arctic expeditions and climbed Mount Everest twice but insists "ballooning is my first love".
And it is for ballooning the 54-year-old has been given his latest award, the First Aero Club Cup, which recognises more than 40 milestones he has set.
Prince Philip presented Royal Aero Club's award to the adventurer from Box, Wiltshire, at Buckingham Palace.
It is the latest award for the explorer who has an Order of the British Empire (OBE) among his honours.
In 1998, Mr Hempleman-Adams became the first person to complete the Adventurers' Grand Slam after climbing the highest peaks in seven continents and reaching the geographic and magnetic North and South Poles.
He has a long association with Prince Philip because it was taking part in the Duke of Edinburgh Award Scheme as a Swindon schoolboy which unleashed his adventurous spirit more than 40 years ago.
Mr Hempleman-Adams said trekking and camping on the Brecon Beacons for the Bronze Award when he was 13 had been a "real eye-opener".
He was encouraged by his "fantastic teacher" Mansel James, who put him on the track of adventure.
By 16, Mr Hempleman-Adams had won the Gold Award and trekked hundreds of miles and climbed a succession of mountains. But like many adventurers, it was his dream to climb Mount Everest and he finally achieved this in his early 30s.
"As a young boy I always read about it and when I achieved it I felt very honoured and privileged," he said.
He previously said he consciously made a point of looking around as he neared the top of the world's highest mountain and remembered the way the sky became darker and darker.
"As you get higher there's less atmosphere and as the stars come out it's as if you can actually cut the stars with a knife," he said.
"It's just so beautiful and if you really concentrate you can see the satellites tracking across."
But the explorer added he was acutely aware of the dangers and that most climbers who die, do so when climbing down.
"I remember thinking you haven't succeeded until you actually get down," he said.
The adventurer's attention later turned to ballooning and in 2000 he became the first person to fly a balloon to the North Pole. Three years later he achieved another ballooning record by crossing the Atlantic Ocean alone in an open wicker basket.
He has since repeated the Atlantic crossing and smashed another record by travelling in the smallest helium balloon to fly the distance.
During the 89-hour trip he endured temperatures of -20C (-4F) and had little sleep amid the risk of crashing into the sea.
Among Mr Hempleman-Adams' records is one for staging the highest formal dinner party, set at 24,262ft in a specially-designed hot air balloon.
'Pushes boundaries'
Clive Bailey, a balloonist who has been Mr Hempleman-Adams' flight director for 12 years, said the explorer has inspired many people in Britain to take up the sport.
Mr Hempleman-Adams and co-pilot Jon Mason won the Gordon Bennett Balloon Race two years ago and Mr Bailey said this in particular had given a boost to gas ballooning.
"The interest had been very poor for about 30 years and now lots of people are going to get their licences," he said.
He added: "In my opinion there is no better pilot, in terms of his teamwork and the way he pushes boundaries and what he has achieved".
Mr Hempleman-Adams said he was spurred to adventure by a variety of factors.
"It's a mixture of teamwork, comradeship and pushing yourself."
He said he was normally too busy to look at scenery on his adventures but "occasionally notices it is strikingly beautiful".
Mr Hempleman-Adams famously regards adventuring as a hobby which he runs chemical and property firms to support.
"It means I'm doing it for the right reasons and not to pay a mortgage," he said.
The explorer, who is a trustee of the Duke of Edinburgh's Award Scheme, said he wanted to help young people in the future.
"I want to get more youngsters doing adventurous things. I have ticked off most of the things that I wanted to do," he said.
"I've been lucky."