Is there a crisis in the dairy industry?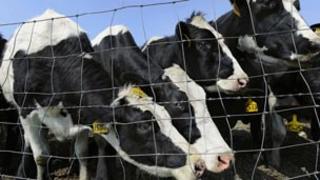 This was the question you were left asking after a debate in the Commons on the plight of dairy farmers.
It was called by Dr Dan Poulter, the MP for Central Suffolk, who brought along two very stark statistics: in recent months, he said, eight farms in East Anglia had gone out of business. Dairy farmers in Britain were receiving the third lowest price for their milk in Europe beaten only by Slovenia and Romania.
"There is a tension between the price paid by the consumer, particularly given the current economic climate, and the price that retailers pay milk producers," he said. "If we want to maintain a profitable and thriving agricultural sector, we need to ensure that milk producers receive a fair price."
Dr Poulter argued that on average British farmers are being paid £300,000 less than the European average.
"That is unacceptable if we wish to support a thriving dairy industry. We need to drill down into why British farmers are not paid a fair price for milk whereas a much higher price is paid by European retailers to their milk producers."
Other MPs agreed. Stephen Phillips, the MP for Sleaford, said one of the problems was that "retailers regard milk as a loss-leading product and they use their superior position in the market to drive down the price in a way that has made dairy farming unsustainable for many producers".
The Agriculture Minister James Paice is a Cambridgeshire farmer, so he was sympathetic to the calls for action.
But he admitted that in many ways the industry was in a healthy state.
"Although the number of dairy farmers is decreasing significantly, by an average of 5% a year over the past decade, there has been no such dramatic reduction in the number of cows or in the amount of milk that we produce.
"In fact, milk production in the UK increased by 500 million litres last year and it is now almost back to the level of three years ago."
He said there was no doubt that the share of the overall retail price taken by the farmer had stayed the same or even fallen, while the share taken by the retailer had rocketed.
"There are questions to be asked about that."
But as for Government help for the industry, he said there was little he could do. It was contrary to EU law to set a minimum price and neither could it dictate what went into farmers' contracts.
Mr Paice accepts that times are hard for dairy farmers but he believes things could be much worse for them.
As for getting a better price for their milk, it looks as if they'll have to take that up with the retailers.