Newcastle MP Chi Onwurah at war over Geordie Shore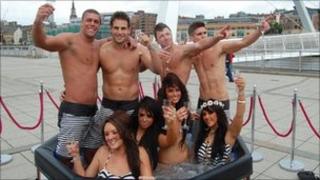 There are many delightful aspects to my job, but there are times when you have to grit your teeth and tackle something deeply unpleasant.
And so I can tell you that I have been watching a slice of MTV's Geordie Shore.
For those of you that have missed out on this dubious pleasure, the programme features the alcohol-fuelled misadventures of eight young housemates from the North East (they're not all Geordies).
My decision to view this spectacle was made of course purely in the interests of research, as the controversial "reality" show has been condemned by one of the region's MPs.
Newcastle Central's Chi Onwurah has described the programme as "bordering on the pornographic".
The Labour MP believes the young people are being exploited and plied with alcohol to present an outdated, misleading and insulting portrait of Newcastle.
Totally unrepresentative
She plans to ask questions in the Commons about the programme, particularly the acceptability of the participants being plied with drink.
She said: "I think there should be a limit on how much alcohol a broadcaster can pour down the throats of young people to provoke sensational acts.
"By putting these young people in this situation, it is encouraging them to lose all their dignity. It's totally unrepresentative of Newcastle."
MTV though has denied denigrating the city.
Instead the channel says the programme makes Newcastle look vibrant and exciting.
And as for the young people, Kerry Taylor, MTV UK's director of TV said: "I do think the qualities that come across in the characters - their warmth, their sense of loyalty to each other and their sense of humour - are really admirable qualities and I think that's a really positive perspective on the North East."
Unspeakably bored
Hmmm. So what did I make of it?
Let me qualify this by saying from the outset that it's unlikely Geordie Shore's target audience includes 41-year-old political journalists. And clearly the series may reach new emotional and artistic heights as it progresses.
But I was just unspeakably bored. I didn't see much evidence of warmth and humour. Just drinking, invective and an obsession with sex.
To be honest, everybody looked the same, and it all became a blur of low-cut tops and sculpted pecs. I lost track completely of who was trying to have sexual congress with who. I certainly didn't care.
It's probably representative of what happens when a group of young people have nothing to do but drink and go to clubs for 24 hours a day, but it didn't seem very representative of Newcastle. It would be depressing if it was.
But should people in Tyneside really be getting outraged by it?
I can't believe most people will think it's a realistic portrayal of life in Newcastle.
Even if it is not scripted, it is completely and obviously contrived.
Highest-rated
We don't see the eight young people in their real lives. Instead they are all thrown into a house together and left with little else to do except row and drink.
I suspect some of the participants may live to regret their involvement in it, but for the viewer I suspect there's a simple answer - if you don't like it switch it off.
Especially as you can guess who'll be loving the controversy the most. Geordie Shore is MTV's highest-rated programme thanks to the kind of publicity you just can't buy.
The more it's condemned, the more people will probably watch.
And me. Next time I think I'll stick to Newsnight and a Horlicks (other malt-based late night drinks are apparently available).