Dover Castle unveils Dunkirk evacuation exhibition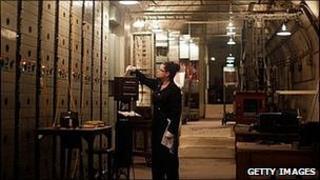 Visitors to a new exhibition at Dover Castle will be able to explore the hidden tunnels from where the Dunkirk evacuation was masterminded.
Vice Admiral Bertram Ramsay organised the rescue of more than 380,000 British and French troops trapped on the beaches of northern France in 1940.
Visitors will be able to walk through the tunnels beneath the castle, the command centre for Operation Dynamo.
The castle is situated on top of the famous white cliffs of Dover in Kent.
'Greatest hours'
Simon Thurley, chief executive of English Heritage, said: "There is no better place in England to learn about the Dunkirk evacuation than Dover Castle.
"With Operation Dynamo, you'll step into the tunnels and on to the beaches, boats and command centre during one of our darkest, yet greatest, hours."
The exhibition follows two years of research, including the gathering of testimonies from veterans of both the beaches and the tunnels.
It includes original news reels, recordings and special effects.
Vice Adm Bertram was brought out of retirement before the outbreak of World War II and charged with protecting the Straits of Dover, the narrowest part of the English Channel.
Organisers said the exhibition celebrated the scale of both the challenges faced by the Vice Admiral and his achievements.
The exhibition opens to the public on Friday.