London Marathon is Eddie Kidd's 'greatest feat'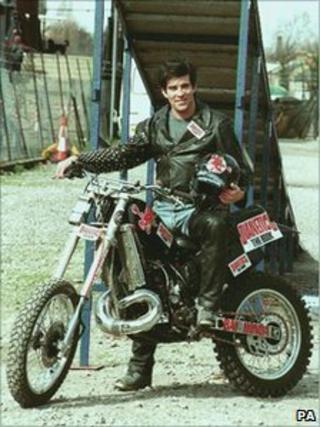 Former daredevil Eddie Kidd has spent the past two months completing what his wife has described as his greatest feat yet - the London Marathon.
In his prime Kidd was one of the best stunt riders in the world.
He first stunned spectators and fans in December 1979, when he jumped 80ft (24m) across a derelict railway bridge in Essex on a 400cc Yamaha.
Kidd's achievements culminated in 1993 when he jumped the Great Wall of China and beat Robbie Knievel, son of Evel Knievel, to the stunt bike world championship.
His life changed when he suffered serious head injuries in an accident at a motorcycle rally in Warwickshire in 1996.
The crash left him brain damaged with severely restricted co-ordination and speech but over the past seven years Kidd has fought to regain some of the mobility he lost.
His disabilities, however, have not diminished his zest for a challenge.
Kidd's wife, Sami, said she was not entirely surprised when he told her at Christmas he wanted to complete the London Marathon.
But she did not realise the challenge would be this tough on both of them.
Kidd, who lives in Seaford, East Sussex, has been walking up to a mile a day using a specially designed frame in aid of the charity Children with Cancer UK.
He started with the competitors on 17 April and has been aided by a team of carers, his wife and the public along the way.
Speaking before her husband crossed the finishing line on Monday evening, Mrs Kidd said: "It's been harder than we thought. It's been a real hard challenge, really tough. It's put him through so much.
"He's been exhausted and frustrated and made up his own swear words because he's run out of the normal ones to use.
"This has been the toughest challenge ever. He says it's his greatest feat.
"He trained on Brighton beach but he didn't train on lumpy roads with distractions and noisy traffic. So he spent the first month [of the marathon] retraining."
Mrs Kidd said people with disabilities and medical problems had joined her husband as he walked the 26.2-mile (42.2km) route.
"The public have been out of this world. It's been overwhelming and emotional. Each person that walked with us had a story to tell.
"They said that he's given them a fresh lease of life," she added.
She had particular praise for people who came out to support him in Bermondsey and Rotherhithe.
"They brought him a new rucksack. They've been doing our dirty washing. They had nothing and they were giving £10 and £20. In the City they just gave pennies.
"I just wanted to say thank you to the people in Bermondsey and Rotherhithe. We'll never forget you as long as we live."
Kidd took part in one of Sir Ian Botham's charity walks in the 1980s and the cricketing great returned his support on the marathon route last month.
The ex-stuntman has also been joined by film star Ray Winston, comics Bobby Davro and Joe Pasquale, and Madness frontman Suggs during the marathon.
'Tears have flowed'
Former boxer Michael Watson presented Kidd with his finisher's medal on Monday evening.
Watson, who was in a coma for 40 days after a fight with Chris Eubank in 1991, completed the marathon in seven days in 2003.
Mrs Kidd added: "It's been hell for me. The tears have flowed.
"He had a bit of a lull at the beginning of the week and we were worried that he wouldn't make it but he's stormed it.
"Yesterday he did up to two miles.
"I've been crying all morning. I think it's because it's the last day and I've been keeping it all in. Bring on the champagne."