Research centres get cash for drought-resistant wheat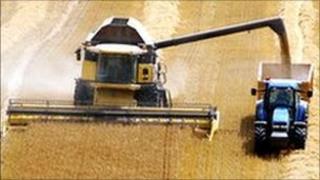 Two of the East of England's leading centres into agricultural research are receiving part of a £7m grant to develop a crop that is resistant to drought.
The money has been given to the National Institute of Agricultural Botany (NIAB) in Cambridge and the John Innes Centre at Norwich Research Park by the Biotechnology and Biological Sciences Research Council.
The project, to develop a variety of wheat, is the first of its kind in the UK for more than 20 years.
Rainfall figures for May have confirmed the East of England has had less rain this spring than in any year since 1893 - and the region is drier than anywhere else in the country.
Drought conditions
The only rain the East has had fell last weekend but it was nothing like enough to make up for the rest of the month, which was very dry.
The drought began back in March. During that month Wittering in Cambridgeshire had just 5.4mm (0.21in) of rain, while Weybourne in Norfolk did much better with 16mm (0.62in).
But that is nowhere near the monthly average of about 45mm (1.77in).
April was even drier; in fact, one of the driest months on record.
Across the region the average rainfall was just 4.7mm (0.18in). We should have been getting ten times that - nearer 47mm (1.8in).
Flexibility call
There appears to be little prospect of change at the moment.
That is proving very worrying for farmers who are predicting crop yields will be down anywhere between 15 and 50%.
They are already calling for a re-think on the rules - for instance, to make water storage for them easier and abstraction licences more flexible.
But in the longer term there are hopes that research in Cambridge may be significant.
The Innovation Farm has been set up by the NIAB to showcase some of its pioneering work.
It's an independent, charitable company and it's looking back in time to see whether characteristics in early strains of wheat can be pinpointed to help improve the ones grown today to make them more drought-resistant.
'No magic wand'
Dr Lydia Smith from the NIAB said: "We look at what kind of things might be needed in the slightly distant future and particularly in consideration of drought and climate change that we've been suffering from recently.
"On the resistance of crops to drought, we can't second guess precisely what's what's going to happen on climate change.
"Certainly we've suffered one of the most seriously dry periods in the last three months than we have in many years.
"We can't wave a magic wand and have a plant that is able to grow with no water at all but potentially we can look at completely new ways in which they can deal with very low water better than the standard crops we have at the moment.
"The east is dry traditionally and it has now become the bread basket of Great Britain so addressing a difficult climate is important."
"Wheat came 10,000 years ago from the fertile crescent in the Middle East and that's desert: very dry and hot.
"What we're hoping is that we can find some of the genes from these wild relatives in the Middle East and bring them into the varieties we grow at the moment."
Their work could very well help the farmers of tomorrow. As for the farmers of today, there is little they can do but remain philosophical and hope for rain - and lots of it.
They know that with so little having fallen during May, the critical month for crops, whatever happens now, for many of them, the damage has pretty much been done.
The BBC Politics Show in the East is broadcast at 1200 GMT on Sunday.