Planning decisions cast doubt over government's localism agenda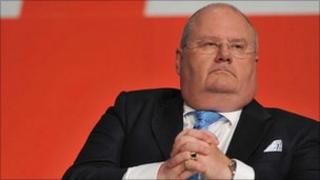 Is it any wonder some people are confused by the government's idea of localism?
Just like David Cameron's Big Society thinking, localism is a key element in the direction the Conservatives want to take the country - less "in your face" government and more locally-based decision making.
The Communities and Local Government Secretary Eric Pickles is almost evangelical about it.
His Localism Bill - which aims to devolve much decision-making from Whitehall - is making its final stages through Parliament.
But two communities in the East Midlands have very contrasting experiences of how localism is being interpreted by the Secretary of State.
Real alarm
The people of Kings Cliffe in Northamptonshire lost their campaign over plans to expand a purpose-built waste tip on the outskirts of their pretty village.
A dump has been there for years, but what caused real alarm was a proposal by the operators to bury low-level nuclear waste, most of it rubble from buildings on the sites of the country's former Magnox power stations.
The fall-out of this controversy soon spread further afield to nearby towns such as Stamford, Grantham and Peterborough.
Local referendums were held in villages throughout south Lincolnshire and Northamptonshire. The result was hardly a surprise: 95% of voters were opposed to planning permission for the "nuclear waste" dump.
Despite those strong objections - backed up by local politicians and MPs - the Secretary of State waved it through and gave the operators planning permission. The national interest, it appears, can trump localism.
'Serious repercussions'
Meanwhile, in the former coal mining village of Rainworth in Nottinghamshire, the residents are celebrating a victory for their brand of localism.
They were outraged at plans to build an incinerator - an energy recovery facility - on the site of the former Rufford pit.
Nottinghamshire County Council struck a deal with the environmental services company Veolia.
The incinerator would have handled the county's entire rubbish. Burning the rubbish would have also generated electricity for nearby homes and substantially cut the need to use landfill - plus the tax penalties that go with landfill usage.
It was also surely a project in the national interest. The Tory leader of Nottinghamshire Kay Cutts wrote to Eric Pickles urging him to back the incinerator plan.
She wrote: "Granting of planning on this proposal would show how the localism agenda, and proposed changes to the planning system, can provide a clear mechanism for wider communities to be empowered to support their own well-being."
Councillor Cutts also warned that refusing planning permission would have serious repercussions for vital care services.
"This will result in further costs of around £6-8m, which given the financial pressures this council is facing, will make it extremely difficult to protect important services such as social care of adults and children from cuts. We are, however, confident that you will come to the right decision."
Opposition campaign
Eric Pickles was unmoved. He turned it down, and the locals are delighted.
His department said: "The Secretary of State agrees with the Inspector's reasoning and conclusions on landscape and visual impact. He agrees that the energy recovery facility building would appear as an isolated, but prominent alien feature in the wider rural landscape."
The residents of Rainworth feel vindicated by their long campaign of opposition.
But some - in Kings Cliffe and some Tories in Nottinghamshire's County Hall - will be questioning what exactly is localism, when such key local decisions still end up with the Secretary of State for him to have the final say.