UKIP MEP David Campbell Bannerman defects to Conservatives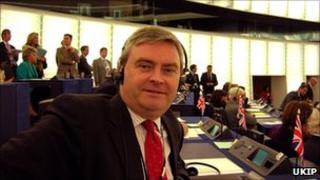 News that David Campbell Bannerman (yes, his great uncle was, he told me, the Liberal Prime Minister who died in Downing Street in 1908) has decided to leave the ranks of the UK Independence Party and cross the floor to join the Conservatives in the European Parliament.
The UKIP member of the European Parliament for the East of England, who served as its chairman and deputy leader, was originally a Conservative. So it looks like he's switched both ways.
As a Conservative, he was chairman of the Bow Group (a centre-right think tank) in 1993 and stood as a Tory candidate twice. Now he's returned to the fold.
Bitter campaign
After being elected for UKIP at the last European elections two years ago, he rose quickly through its ranks to become deputy leader until last year.
So what happened? He stood against Nigel Farage in last year's leadership contest, that's what; after the former leader's failed attempt to win Speaker Bercow's parliamentary seat, which culminated in a near fatal air crash.
It was a bitter campaign. David Campbell Bannerman criticised Nigel Farage's flamboyant style and wanted to move the party in a more serious direction.
But it was not to be, he came third and Mr Farage resumed his leadership - leaving Mr Campbell Bannerman out in the cold.
Now he says he's impressed with David Cameron's leadership and likes the Conservatives "robust stance" over the EU budget negotiations.
Internal conflict
Unsurprisingly, he saves his ire for UKIP: "As a member of UKIP I witnessed too many colleagues obsess with single issue politics, internal fighting and shouting from the sidelines. This behaviour does nothing to serve the best interests of the British people."
His East of England UKIP colleague Stuart Agnew, who has worked closely with Mr Campbell Bannerman since both took up the role in 2009, retaliated:
"As usual, he has shown a great lack of judgement and put his own interests ahead of those of UKIP. David is a career politician who is only interested in self-promotion rather than having any real belief in what UKIP is fighting for."
Only last week UKIP was celebrating gaining its first council in the country when it took control of Ramsey Town Council near Peterborough here in the east. The party also held its eastern seats in the local elections.
I remember seeing the piles of votes for UKIP in this region on the night of the last European elections. I wonder what those voters will be thinking now?
Before we had two UKIP MEPs, one Labour, one Lib Dem and three Conservatives. Now the tally of Tories has risen by one. The question is for how long?