East Midlands Airport objects to farmer's turbine plan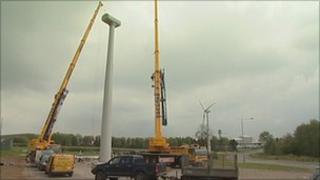 A Derbyshire farmer has had his plans for a wind turbine blocked by East Midlands Airport over concerns it would cause interference to the radar.
Paul Turner, from Ryehill Farm in Breaston, accused bosses of having double standards after two, 45m (148ft) turbines were installed at the airport.
Mr Ryehill said he was very disappointed about the objection but felt there was nothing more to be done.
An EMA spokesman said spinning blades could cause "radar clutter".
'Spinning blades issue'
"It is very unfortunate that the airport has to object to these plans and it is very much a last resort," said Neil Robinson, director of sustainability at East Midlands Airport.
"It's the spinning blades that are the issue. It's down to the judgement of the air traffic controllers and they're the ones that have to maintain the safety of aircraft operations and they're the ones that only have radar to rely on to see where the aircraft are," he said.
Mr Ryehill, who wanted to install one 30m (98ft) high wind turbine in the middle of his field, five metres from the airport, said there could be ways around the radar clutter.
"As I understand it at Newcastle Airport, wind turbines have been built on the flight path but the turbines have been tagged on the radar so everyone knows where they are," he said.
"The airport has put up two, large wind turbines so it seems to be double standards to me."
On Monday it emerged East Midlands Airport had objected to plans for two wind turbines at Severn Trent Water's site in Raynesway, Derbyshire.