Forestry Commission to cut 250 posts in England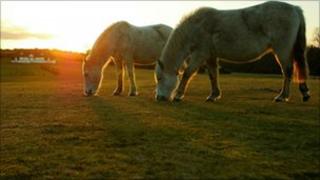 The Forestry Commission is to axe 250 posts in England - 23% of its workforce - as it tries to save £16m by 2014/15.
Twelve forest areas will be merged into six new districts under the plans.
The commission said some staff will be redeployed or offered voluntary redundancy but it could not rule out compulsory job losses.
One union said it will ballot workers over strike action while campaigners feared it could lead to the government resurrecting plans for a sell-off.
The government-run Forestry Commission, which owns and runs 18% of England's woods, said it had to make changes after its budget was cut, but added people using its forests should not notice a difference.
The commission had announced in February plans to axe 350 jobs in England and 100 in Scotland as its 2011/12 budget of £48.47m is set to drop to £32.45m in 2014/15.
It said the 250 losses, from its 1,082 posts in England, were from within its main departments but other areas may also see cuts in the coming months.
'Draconian cuts'
The six new districts have been provisionally called North, Yorkshire, Central, West, East and South.
In one example, the new South district will see the New Forest and South East areas merged.
But campaign groups criticised the move, saying it could affect a review into the future of publicly-run forests following the government's U-turn over privatisation earlier this year.
The Public and Commercial Services union (PCS) said the Forestry Commission management was "acting in bad faith by announcing such draconian cuts three months ahead of the independent panel's interim report".
Mark Serwotka, PCS general secretary, said: "Ministers made much of the fact that they listened when half a million people signed a petition against their planned sell-off of our public forests.
"But axing this many staff will leave the Forestry Commission unable to maintain the excellent public services our members provide which are so highly regarded by the public."
The PCS is planning to ballot its 250,000 civil and public service members, including those working for the Forestry Commission, for national industrial action over cuts to jobs, pensions and pay.
A spokesman for the Forestry Commission said: "The Spending Review has impacted all government departments.
"This is how we have reacted and believe we can move forward but we will do all we can to protect jobs and avoid compulsory redundancies."
A consultation on the job losses is under way.