West Midlands and Staffordshire Police could merge units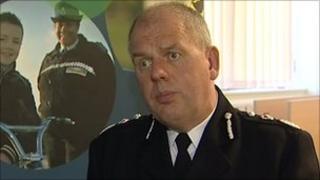 Staffordshire Police could merge some specialist teams with West Midlands Police to save money, the force's chief constable has said.
Ch Con Mike Cunningham said dog handling and fire arms units could be shared, though the two forces would keep their separate identities.
The Staffordshire force aims to save £22m in two years through restructuring and has made £11m of savings already.
Staffordshire Police Authority said restructuring had improved performance.
Four divisions and 21 neighbourhood policing units have been replaced by nine local policing teams matching local authority boundaries.
'Performance improving'
The force said there were 5,000 fewer recorded crimes in Staffordshire between April 2010 and the end of March 2011, compared to the same period last year - a drop of 7% from 76,047 offences to 70,890.
David Pearsall, chairman of Staffordshire Police Authority, said: "Despite all this turmoil the performance is actually improving.
"Bear in mind this was on top of good performance already."
West Midlands Police Authority has previously said that it needs to save £78m in the next two years.
Ch Con Cunningham said any plans to merge specialist teams would be careful to preserve the separate identities of the two forces, with which residents strongly identified.