Badger cull 'may not happen' says farming minister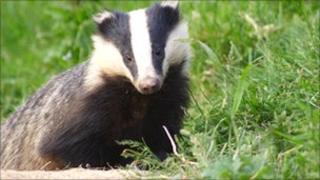 I talked to Farming Minister Jim Paice on the Politics Show this week - almost exactly a year after my first interview with him at last year's Devon County Show.
The first day of the 2010 show was, coincidentally, a day of huge political import. That morning the new coalition had published its programme of government.
Farmers at Westpoint - and across the South West - were understandably keen to hear Mr Paice outline the headline policies for agriculture.
And they wanted confirmation of one key policy in particular: a cull of badgers to combat bovine tuberculosis.
Manifesto promise
They had very reasonable grounds to expect this to happen.
The Conservatives' election manifesto had promised to "introduce a carefully managed and science-led policy of badger control in areas with high and persistent levels of bovine TB".
The Liberal Democrats, too, had committed themselves to a pilot badger cull, so there wasn't much scope for disagreement between the coalition partners in this particular policy area.
Mr Paice duly confirmed that the new government would be pushing ahead with plans for a cull.
One anti-cull protester I spoke to later that day naturally condemned the decision, but frankly admitted that it was a foregone conclusion given the governing parties' election pledges.
Frustrated farmers
Farmers, meanwhile, urged the government to get on with the job as quickly as possible.
A year on, farmers have had the opportunity to contribute to a consultation on the government's plans. But more than five months after that consultation closed, the cull itself has still failed to materialise.
Farmers are frustrated with the delay - something Jim Paice assured me he was well aware of when we spoke on the Politics Show.
He also reiterated a point the government has been hammering home for the past year: ministers needs to make sure the policy is as fireproof as possible against the "inevitable judicial review" before they try to implement a cull.
But it may not simply be a case of farmers waiting patiently - or, more realistically, fidgeting impatiently - while the government gets all its ducks in a row. (Not, incidentally, an expression one would expect Defra to use after the recent controversy it's endured over culling the alien ruddy duck on British waters.)
When and how?
During his interview with the Politics Show, Mr Paice conceded that it may not be possible to produce a sufficiently robust and compelling case to proceed with the kind of cull envisaged in the government's proposals.
Which means farmers have more to worry about than merely when and how a cull takes place.
They're clearly entitled to question - like one dairy farmer we interviewed at this year's Devon County Show - whether the cull will ever happen at all.
After all, that's no more than the government's doing.
Here's my interview with Jim Paice: