Raynesway turbines could interfere with airport radars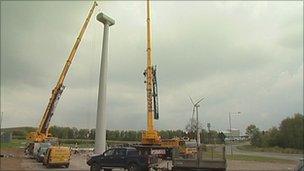 Plans for two wind turbines near Derby look set to be delayed after airport bosses raised concerns about possible radar interference.
Water company Severn Trent wants to erect the 80m (260ft) turbines at its Raynesway site.
But, East Midlands Airport said the moving blades could cause problems on air traffic control screens.
Severn Trent said it would ask for a deferral on the planning application at a city council meeting this week.
Neil Robinson, director of sustainability at East Midlands Airport, said: "Objecting to wind turbines is absolutely not what we'd want to do and only something we'd do as a last resort really where we feel we need to make sure we can keep a safe operation.
"To a radar the spinning blades of a turbine look very much like an aircraft so they do show up on the air traffic controller's radar display, which of itself is not usually a problem, it just depends where the turbines are."
Mr Robinson said the airport's own wind turbines, which were completed earlier this month, did not cause problems because of their proximity to the control tower.
He said: "On the airport site, if the controller wants to know where an aircraft is, the reason we have such a large control tower is he can look out of the window and do it, so he's not using the radar in the same way here."
Martin Dent, Severn Trent Water's renewable energy manager, said: "We've been obviously talking with all statutory consultees for well over 18 months now in the planning for these two large wind turbines, but we're aware we have to get everything absolutely right.
"Now East Midlands Airport have flagged up some concerns and we've been working with them and are continuing to work with them to resolve those concerns, and I'm confident that we will be able to do so in time."
Related Internet Links
The BBC is not responsible for the content of external sites.