Yorkshire whistleblower forecasts second banking crash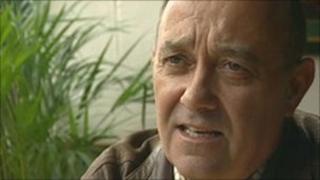 Paul Moore was sacked when he told his bosses at the HBOS bank that lending billions to people who could not afford to pay the money back was a risk which would lead to disaster.
That was in 2004.
Within four years HBOS had to be pulled back from the brink of bankruptcy with a huge injection of taxpayers' cash and a shotgun marriage with the much larger Lloyds Group.
During that time Paul Moore, who had been the executive in charge of risk management at the bank's West Yorkshire headquarters in Halifax, had been unemployed and sitting at home in North Yorkshire.
His former employer had given him a six figure financial settlement on condition that he never spoke about the warnings he had given of impending financial meltdown before the crash.
But in 2009 he could keep his silence no longer.
Financial sector shocked
He was incensed when all the banks involved in what had turned out to be the biggest financial crisis since the 1920s told the UK's financial regulators that there had been no warning of the crash which had been caused by dubious lending in the United States.
When MPs on the Treasury Select Committee announced they were to investigate the banks, he became a high profile "whistleblower".
His evidence shocked the financial sector and even rattled the Prime Minister Gordon Brown who had been left to pick up the pieces of a shattered economy.
Paul Moore's evidence forced the resignation of the HBOS chief executive who had sacked him at the bank.
As for Moore himself the months since then have proved difficult.
Depression and anger
He was cold shouldered by many in the banking and finance industry who did not like him displaying its dirty washing in public.
He freely admits that he was depressed and started drinking far too much for his own good.
Two years on his depression has once more turned to anger.
He is concerned that despite promises of action both Labour and coalition governments have not curbed the excesses of the banks.
He is forecasting a second crash unless something is done now.
The Politics Show has been following him for the past few weeks as he prepares to launch a public campaign for more responsible banking.
Moore has held meetings in the city of London attended by investment professionals, bankers and financial journalists.
He wants stronger regulation to ensure that banks lend for sound financial reasons rather than to artificially boost profits.
'Casino gambling' hived-off
He says top executives should have a much stronger legal duty of care so that they can not cover up decisions which take unreasonable risks.
"Casino gambling" by the investment arms of the banks should be separated off from the vital bread-and-butter work of personal banking, mortgages and loans to business.
Banks should ensure they have much bigger capital reserves to cushion them against bad debts.
Individual banks would not comment on the Moore campaign which will soon kick off with an online petition appealing for support from the general public.
The British Bankers' Association, which represents the industry, told me that some of his criticisms would have been true "four or five years ago".
Bankers' denial
But the Association's spokesman Peter Hills assured me that the banking houses have now been put in order.
He flatly denied any suggestion that unless extra regulations are introduced a second banking crisis is on the way.
But the Bankers' Association seems to be swimming against the tide.
The government has set up the the Independent Banking Commission under Sir John Vickers and it has just issued an interim report calling for a "chinese wall" between investment and commercial banking.
Banking club 'strong'
It says there should be no more taxpayer's bailouts and ordinary banking should not become more expensive to pay for any losses made on risky investments.
Its full recommendations to government will be made in September 2011.
One thing has clearly not changed.
The power of the banking industry "club" is still as strong.
Among the insiders attending the initial meetings organised to start Paul Moore's campaign there were those anxious to retain their anonymity.
It might not do their future job prospects any good to be hobnobbing with a banking "whistleblower".