A House of Commons circus around Defra minister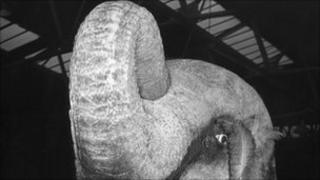 A tough day at the dispatch box for the member for South East Cambridgeshire. James Paice will have breathed a sign of relief as he returned to his constituency this weekend.
A few months ago, he had to first defend and then climb down over plans to sell off the nation's forests. Now the minister of state at Defra is once again under attack over the issue of circus animals.
Last week there was surprise in the house and outrage from animal rights groups after the government appeared to go back on a pledge to ban the use of animals in circuses.
Mr Paice blamed a court case currently underway in Austria. He said the government was prevented from making a move until the case was completed.
"Whether we like it or not, this court case is going on in Europe and therefore the British government could not bring forward a proposal," he said.
Ban 'irresponsible'
However, there wasn't any court case going on. Shadow Defra minister and Luton MP Gavin Shuker made enquiries and discovered that the only case involving circus animals in Austria ended in 2005.
So with his boss, Caroline Spellman, away on business, it was left to poor Mr Paice to face the Commons and deny misleading the House.
"We now understand that the initiation of court proceedings against the Austrian government has been delayed, although a case is in preparation and proceedings are expected to commence shortly," he said.
"We believe that to have pursued a ban in the light of that legal advice would have been irresponsible."
'No legal action'
Labour's Mary Creagh questioned if the case would ever come to court and accused Mr Paice of stalling.
"Will he stop hiding behind some circus owners who, after six years of failed national and European legal challenges, might well bring another case?
"That provides no reason not to ban wild animals in British circuses," she complained.
While Jim Fitzpatrick, a former Defra minister, said: "I have been told by the Born Free Foundation, Animal Defenders International and the RSPCA that the Austrian government says no legal action was pending."
Minister embattled
And there was little support from his coalition colleagues. Bob Russell (Lib Dem, Colchester) declared: "This is just not good enough." He went on to rename Defra "the Department for error, failure and rotten administration".
Jo Swinson called on him to think again, while Duncan Hames said Mr Paice's officials had written a "script of prevarication".
Caroline Lucas for the Green Party called Mr Paice's statement "extraordinarily cowardly" and another Labour MP, Helen Jones, accused him of "a pathetic defence".
The Conservative benches were largely silent. Mr Paice could only assure the House that personally he was still against the idea of animals in circuses.
I bet the weekend couldn't come soon enough for the embattled Cambridgeshire MP.