Epsom and St Helier NHS savings put 115 jobs at risk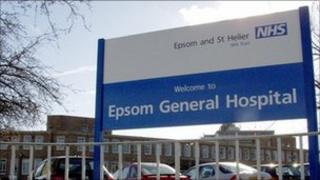 An NHS trust with hospitals in Surrey and London has set out savings plans that could see the loss of 115 posts including 26 doctors.
Epsom and St Helier University Hospitals NHS Trust has begun a 90-day consultation with staff and unions.
The trust said it wanted to save £18.7m by March 2012 but it would still be left with a £19.3m deficit at the end of the financial year.
The public sector Unison has not yet commented on the savings plans.
'Tough financial climate'
Non-clinical posts affected were seven directors and senior managers, 36 staff from corporate services, and 46 middle management and clinical support roles.
Clinical posts affected were 26 doctors, which the trust said represented 4% of the medical workforce.
Ending the year with a £19.3m deficit was also subject to agreement with strategic health authority NHS London, a trust statement added.
The trust also said it was operating in a tough financial climate, with funding cuts and primary care trusts spending less on hospital treatment, but it would try to reduce the number of job losses.
Staff redeployment
Chief executive Matthew Hopkins said: "Our workforce accounts for nearly 70% of the money we spend each year and, as such, we must ensure they are working to the best of their ability."
Commenting on changes to the medical workforce, he said: "Based on evidence, we employ the equivalent of 26 more medical staff than other trusts of similar size.
"As such, we believe we can work more efficiently, treating more patients more quickly and, as a result, reduce the amount of extra hours our doctors have to work."
He said the NHS trust was planning to create 200 roles for specialist staff who would be responsible for supporting patients from the moment they were admitted to the minute they were discharged.
Under the plans, the trust would try to avoid compulsory redundancies by cutting temporary staffing which cost £40m a year, and redeploying other staff to vacant roles as workers retired or left, he added.
The trust owns and runs Epsom Hospital in Epsom, Surrey, and three hospitals in London, St Helier Hospital, Queen Mary's Hospital for Children, and Sutton Hospital.