End of line for East Coast mainline train dining cars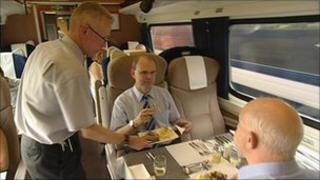 It is one of the great romantic images of modern travel.
Sitting by the window on a speeding train, eating a meal served by stewards in crisp white uniforms.
In the age of the train you knew you had arrived if you could afford a meal in the dining car. Or you were on expenses.
However, East Coast trains, which runs mainline services between London and Scotland, has become the latest rail operator to withdraw the dining car.
At the moment several trains a day have a first-class coach with tables laid up for breakfast or dinner. From Monday they will be no more.
First-class passengers will get a meal at their seat as part of the ticket price. But there will no longer be a dining car on any service between London and Scotland on the east or west coast mainlines.
Standard-class passengers will see the end of one the satisfying loopholes of inter-city travel. Because up until now they could board a dining service, and for the price of a meal, go and eat in first-class surroundings.
Elaine Holt, the chairwoman of East Coast, said such passengers should consider upgrading to a first-class ticket.
She told the BBC: "We respect the heritage of the railways and that dining cars were popular many years ago but the world has moved on.
"We've talked to our customers and they've told us they want a meal included in the cost of their first-class ticket. It's about adding value.
"It actually wasn't a very hard decision because we talked to so many of our customers and indeed people who don't travel with us.
Catering loss
"We asked them what would make them travel on the train and they told us this was the right thing to do. So when the customer says that, it becomes a really easy decision."
It was also a decision aided by the claim by East Coast that the current catering operation is losing £20m a year.
And as this is a railway company currently owned by the government, it is taxpayers' money which is being lost.
But our unscientific opinion poll didn't fully reflect that view.
On the 1630 BST London Kings Cross to York service we travelled on we found a group of standard-class passengers heading to Newcastle in the dining car.
They know they now won't be able to sit in first class for dinner and they were not happy.
Others thought the move was about saving money and getting "more bums on seats".
But quite a few were also supportive, welcoming the idea of getting a meal at their seat so they could carry on working or relaxing.
It is the end of an era for railway buffs too.
At the National Railway Museum in York there are many souvenirs and mementos from the golden age of the dining car.
We joined curator Russell Hollowood in a 1930s buffet car from the old Flying Scotsman service, complete with menu's offering champagne for a few shillings.
'Romantic place'
"I think the dining car was very important from a social point of view because it was a place where business was done.
"The business of the railway was linking the industrial heart of Britain with the metropolis of London.
"As they sat in the cars, they did deals with their partners and prepared for a day of business in London.
"When they'd done that, they came back, had a beautiful meal and they could go back happy knowing they'd done a good days business.
"And the railway company was happy too, knowing they'd made a good profit on the journey.
"It's a pity they are going because like a lot of things the buffet car has a romantic place in the psyche of rail travel and the view of Britain.
"But the railways have never stood still and what's happening is a reflection on society today.
"We don't want the rigidity of being told when to have a meal, we want flexibility."
So the London to Scotland buffet car could soon be another of the railway museum's exhibits.
Because this afternoon the last services of their kind will roll north out of London.