Sir Henry Cooper: Funeral of British boxing legend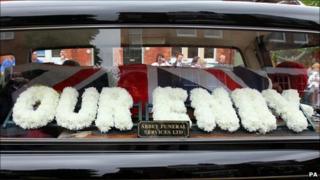 Hundreds of fans have paid their last respects to heavyweight boxing legend Sir Henry Cooper.
Mourners lined the streets of Oxted, in Surrey, where Sir Henry died at his son's house on 1 May aged 76.
They bowed their heads as the cortege bearing Sir Henry's coffin draped with the Union flag passed by on its way to a private funeral in Tonbridge, Kent.
The former British, Commonwealth and European champion fought 55 times, knocking down Muhammad Ali in 1963.
London-born Sir Henry, who won the BBC Sports Personality of the Year award twice, was knighted in 2000.
'British icon'
He lived in the Kent town of Hildenborough for many years, where he was chairman of his local golf club.
He was known affectionately to his fans as 'Our 'Enry'.
Percy Battershill, 69, from Mitcham, was among the fans watching the cortege, and described Sir Henry as simply "the greatest".
He said: "He could knock a man out with one punch. He didn't have to go 10 or 15 rounds, and on top of all of that, he was a gentleman.
"He could walk with the crowds, talk with the kings and he never lost the common touch."
Tony Lawson, 60, an electrician and former amateur boxer from Dulwich, south London, said: "He was a boxer's boxer, he had style. He was my hero as a kid and he's still my hero now.
"He's a legend and a British icon, I felt it was only right to come and say goodbye to him."
Sir Henry is considered alongside Lennox Lewis, Frank Bruno and Tommy Farr as one of the great British heavyweights.
He is best remembered for his two famous clashes with Muhammad Ali - the first when his opponent was known as Cassius Clay - in the 1960s.
Responding to the news of Sir Henry's death on 1 May, Ali said he was a "great fighter and a gentleman".
Sporting celebrities and friends of Sir Henry attended the private service at Corpus Christi Church in Lyons Crescent, Tonbridge.
Among them was 1966 World Cup winner Sir Bobby Charlton, who said he would "always smile immediately he saw you" and was "great company".
A BBC documentary called, Our 'Enry: A Tribute to Sir Henry Cooper, will be broadcast on BBC Two on Saturday, 21 May at 2145 BST and repeated on BBC Two on Tuesday, 24 May at 2320 BST.