Hindhead A3 tunnel walk ticket sales upset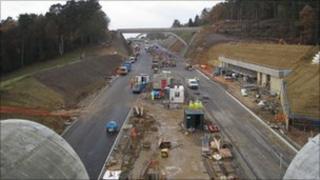 People "had more chance of winning the lottery" than the opportunity to walk through a Surrey tunnel before it opens to vehicles, a councillor has said.
Thousands missed out on tickets for the one-off event on Saturday, which sold out in under 24 hours in April.
The £370m tunnel takes the A3 London to Portsmouth road under the Devil's Punchbowl at Hindhead.
It will open to traffic in July. "We are very upset," said Grayshott councillor Ferris Cowper.
On Saturday 7,000 residents will walk through the tunnel in a community event, but 10,000 more failed to get a ticket.
"It has all been a bit of a lottery - we think we had less chance of getting a ticket for the tunnel than winning the Euromillions," added Mr Cowper.
The opening of the 1.2 mile (1.9km) tunnel designed to ease the traffic bottleneck at Hindhead, comes after more than 25 years of lobbying, discussion and planning.
The open day was organised by Hindhead Together as a goodwill gesture to communities affected by construction work.
The steering group said the number of people interested in the open day far exceeded expectations, with 17,000 registering an interest.
'Sort of compensation'
"We thought it was a great idea," said Mr Cowper, Conservative councillor for East Hampshire District Council.
"People in Grayshott have suffered a huge amount and we thought we were going to get tickets to walk through the tunnel as a sort of compensation.
"Sadly that is not going to happen."
He said it would have been better to sell tickets through the local shops rather than Hindhead Together's website, which crashed under the weight of applications.
Councillor Melanie Odell said Hindhead Together had worked for months to organise ticketing for the event.
She added that 95% of tickets had gone to people with local postcodes.
"It was always going to be a nightmare," she said. "People were always going to be disappointed.
"We are very sorry, but it was the best way we could distribute the tickets at the time."