Ex-stuntman Eddie Kidd walking London Marathon route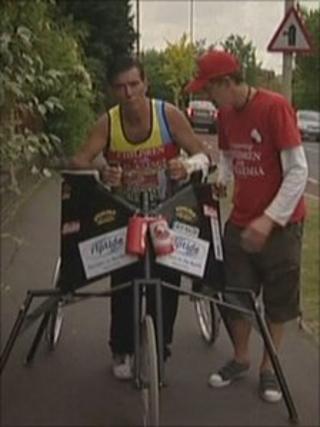 Former stunt rider Eddie Kidd, who was brain damaged in an accident, is still walking the London Marathon route more than three weeks after setting out.
Mr Kidd, of Seaford, East Sussex, was injured in 1996 when his bike crashed after jumping across a drag strip.
He has been walking up to a mile a day in aid of the charity Children with Leukaemia, despite the severe disabilities he suffered in the crash.
He started with the other competitors on 17 April and has covered 10 miles.
He is using a specially designed walking frame and still has another 16 miles to go before he crosses the finish line in Westminster.
Mr Kidd spent months training for the marathon on Brighton seafront.
He has since received plenty of support along the London route, with drivers tooting their horns and passers-by stopping to contribute to the charity.
Despite his slow progress, he said he was determined to reach the end of the route.