Delayed decision over soldier pay-outs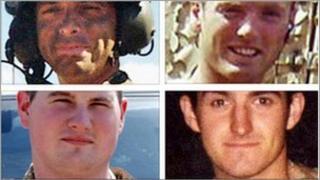 Families of four soldiers killed in Iraq must wait to hear whether a High Court judge will allow them to seek compensation from the government.
Pte Lee Ellis, of Greater Manchester, Lance Cpl Kirk Redpath, of Essex, Cpl Stephen Allbutt and Pte Phillip Hewett, of Staffs, died in separate incidents.
Relatives said the MoD failed to provide armoured vehicles or equipment which could have saved lives.
MoD lawyers have asked a judge to stop compensation claims going forward.
They said decisions about battlefield equipment are for politicians and military commanders.
Improvised bombs
Mr Justice Owen has reserved judgment after hearing arguments from all sides during a three-day hearing at the High Court in London.
Lawyers said he was unlikely to rule for at least a month.
The judge heard compensation claims had been made after a British Challenger tank opened fire on another British Challenger tank when an officer became "disorientated", and other incidents in which soldiers died after Snatch Land Rovers hit improvised bombs.
Cpl Allbutt, 35, of Sneyd Green, Stoke-on-Trent, was killed by "friendly fire" in March 2003 after his Challenger 2 tank was hit by another Challenger 2 tank.
Pte Hewett, 21, of Tamworth, died in July 2005 after a Snatch Land Rover was blown up.
'Reasonable steps'
Similar explosions claimed the lives of Pte Ellis, 23, of Wythenshawe, in February 2006 and Lance Cpl Redpath, 22, of Romford, in August 2007.
Solicitor Jocelyn Cockburn, who is representing relatives of soldiers killed after Snatch Land Rovers blew up, spoke outside court.
The solicitor said there was "nothing unreasonable or disproportionate" in asking ministers to take "reasonable steps" to protect soldiers from known risks.
Solicitor Shubhaa Srinivasan, who is representing Cpl Allbutt's widow Debi, said: "The tragedy happened because of a long-standing failure by the MoD to provide technological equipment."
James Eadie QC, for the MoD, asked the judge to "strike out" the claims.
He told the court: "Should the court decide this issue? My submission is plainly not.
"They are political decisions, not legal decisions."