Call for UKIP's Nigel Farage to resign as double act turns sour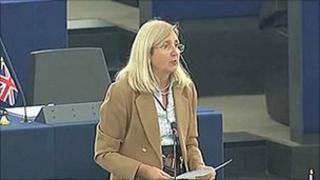 She was brought in as the 'budget buster'. As a constant thorn in the side of the Euro establishment, former EU Chief Accountant Marta Andreasen seemed an ideal recruit for the UK Independence Party.
In the European elections in the South East of England she and Nigel Farage finished ahead of Labour and the Liberal Democrats with nearly 20% of the vote.
But now the double act has turned very sour.
Calling for her party leader's resignation. Ms Andreasen says they made a "dismal" showing in the local elections.
Dismal showing
"Party members and supporters are justifiably angry. After promises of success and claims that the party would triple the number of its seats, after large amounts of party members' and donors' money was spent on what was a poorly led campaign, the result was frankly dismal.
"I am calling on him to step down as Leader of UKIP and make room for a new Leader who resonates more with the public and who will move us forward to where I know we should be.
"It is time for change. Mr Farage has abjectly failed to deliver and is not leading the party on the course to victory. Even he must recognise this fact."
But he certainly doesn't recognise that, at all. Though he didn't want to comment to me directly, it's clear this is down to a personality clash as much as electoral success or failure.
She resigned as party treasurer after arguments with Paul Nuttall, then party chairman. And there has been continued disagreement about UKIP's position within the European Parliament. Ms Andreasen admitted she had not put her points to Mr Farage personally, but says he's very aware of her position.
UKIP reaction
The party dismissed Ms Andreasen's call for the leader's resignation as "eccentric and naive".
"I'm frankly astonished that Nigel's fellow South East MEP, Marta Andreasen, has issued this statement. It is quite odd, and based on a complete misreading of the political situation in the UK," said UKIP Executive Chairman Steve Crowder.
"In last Thursday's elections UKIP made net gains, and more than doubled our votes in areas where we had stood before. We established ourselves clearly as the fifth party in Wales, and made our presence felt in Northern Ireland and Scotland, as well as in over 1,200 council seats around England."
"Marta's statement displays what one might perhaps charitably call a naivety in its analysis of the UK electoral scene. I am intrigued to know who she believes would be the "new Leader who resonates more with the public" than Nigel?"
Golden girl
It was Nigel Farage himself who brought Marta Andreasen, a Spanish national, into the party - and helped her take the number two spot on the list for the South East region.
When she was first introduced at their conference in Bournemouth, I remember Nigel himself introduced her as their new golden girl - the UKIP equivalent of a then ascendant Sarah Palin.
But now his running mate is in open conflict. The same situation he was in in the last term, when Ashley Mote was elected and then thrown out of the party for benefit fraud.
So is this just a personality clash, or is there substance to the complaints of a "dismal" showing in the local elections?
One-man band?
It is true that UKIP made net gains in the election - but it must have been less than the party had hoped for.
In some councils such as Eastleigh in Hampshire they contested every seat up for election, but won none.
Aylesbury Vale in Oxfordshire bucked the trend, with two candidates winning seats from Liberal Democrats on a platform of opposition to the high-speed train plan HS2.
There will be some within UKIP who agree with Marta Andreasen's comments, some who agree that Nigel Farage is too much of a one-man band. But the timing is not good.
He was only re-elected in November after standing aside for Lord Pearson, who didn't exactly cover himself with glory.
The membership overwhelming voted for Farage, backing him with 60% of the vote to closest rival Professor Tim Congdon on 20%.
But this may be the sting the party needs to continue its reorganisation.