MoD wants soldier pay-outs blocked after deaths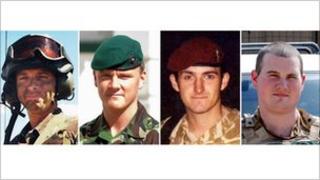 Government lawyers asked a High Court judge to block families' bids to claim compensation for four British soldiers killed in Iraq.
Pte Lee Ellis, of Greater Manchester, Lance Cpl Kirk Redpath of Essex, Cpl Stephen Allbutt and Pte Phillip Hewett of Staffs died in separate incidents.
Relatives said the Ministry of Defence failed to provide armoured vehicles or equipment which could have saved lives.
The MoD said the vehicles and equipment were not available when the men died.
The MoD said the claims should be "struck out" and argued "complex" decisions about military equipment should be left to politicians and commanders not judges.
Cpl Allbutt, 35, of Sneyd Green, Stoke-on-Trent, died from "friendly fire" in March 2003 after his Challenger 2 tank was struck by another tank.
Pte Hewett, 21, of Tamworth, died in July 2005 after a Snatch Land Rover was blown up.
'Friendly fire'
Pte Ellis, 23, of Wythenshawe, died after a similar incident in February 2006 and Lance Cpl Redpath, 22, of Romford, died following a similar explosion in August 2007.
James Eadie QC, for the MoD, said families were alleging the two tanks involved in the "friendly fire" incident should have been fitted with "tactical safety equipment".
He said at the time the UK was looking to procure "battlefield identification systems", but the programme was in a developmental stage and not available.
Mr Eadie said families were also alleging soldiers killed in Snatch Land Rovers should have been travelling in vehicles with tougher armour.
He said there was a "long-running" procurement process going on, but such vehicles were either not available to UK forces or not available to all commanders everywhere.
'Poorly armoured'
Families have argued the MoD should have ensured tanks were "properly equipped" with technology or equipment which would "on the balance of probabilities" have prevented the "friendly fire" incident.
They have also argued the MoD should have ensured "vehicle recognition training" was in place for troops.
Relatives have claimed the MoD had put soldiers at "unnecessary and unreasonable risk" by providing "poorly armoured" Snatch Land Rovers when better-armoured vehicles were available.
Lawyers for relatives have said the compensation claims do raise a legal question and "complex factual issues" relating to the question of whether the MoD has a "duty of care" to soldiers in such circumstances.
They said such a claim should not be blocked.
The hearing was adjourned.