Royals prompt 'explosion of interest' in English wine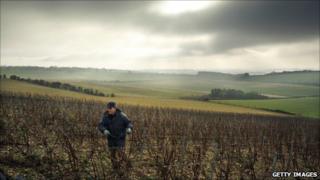 Vineyard owners in England say there has been an "explosion of interest" in locally produced wine as consumers seek out novelty and try to buy locally.
The Queen has announced she plans to grow her own wine in the grounds of Windsor Castle.
The new Duke and Duchess of Cambridge chose a English wine for their wedding breakfast.
But English wine is nothing new. There is archaeological evidence of Roman vineyards in Hertfordshire.
The Roman writer Tacitus is believed to have written in 1 AD that England's climate was 'objectionable', and not at all suitable for growing vines.
However, entries in the Domesday Book shows records of vineyards in 42 locations, and wine making continued after the Dark Ages, championed by the nobility and the Royal Family.
Today, the Queen continues to endorse British wines. She chose a Ridgeview Estate wine, a sparkling wine grown using classic Champagne vines in Sussex, for her 80th birthday celebrations in 2006.
Michael Roberts, chairman of English Wine Producers, said the Royal Family's interest was a coup for the country's vineyard owners.
However, David Ealand, who owns Chiltern Valley Winery & Brewery, says his Oxfordshire wine has been popular with the public since the 1980s.
He said: "Since the 1950s and 60s there has been an increase in English vineyards. There's been interest in English wine since the early 1980s, what's happened is now the press have caught on.
"Recently there's been an explosion of demand for English wine."
He started up his vineyard in 1980 at a mixed arable and pig farm in the Hambleden valley in Oxfordshire.
In 2007 he was given a Royal Warrant after he had supplied the Royal Household on a regular basis for over five years.
Cat Lomax is a wine buyer for Laithwaites Vineyard, and works in an office looking out on the company's vineyard in Theale, Berkshire, which has produced award-winning sparkling wine.
She said: "People do grow wines in northern climes, but it's difficult to grow grapes.
"The best place is probably the Sussex Downs. They have a much milder climate up there and the chalky downs are the same soil type as in Champagne."