Labour's Mayor Sir Peter Soulsby rejects 'Red Leicester' barb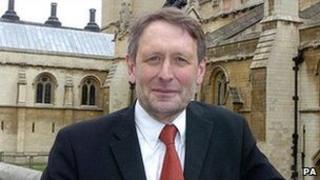 Leicester's become the largest city outside of London to elect its first ever directly-elected mayor, but what can the people of Leicester expect from the politician who's got the top job?
Now Mayor Soulsby is about to name his cabinet and set out his early priorities. Sir Peter Soulsby is not short of a mandate.
In last week's mayoral vote, he saw off 10 rival candidates to win 53% of the popular vote on the first round alone.
It's a powerful role, but there are already some concerns about scrutiny. Labour now has 52 of the city council's 54 seats.
'Held to account'
Red Leicester? There's only one Conservative and one Liberal Democrat. Under current rules, his cabinet has to be made up of elected councillors.
When I spoke to Sir Peter, he explained how he would seek to broaden his administration.
"It will be a Labour-dominated cabinet but that's not the only way a mayor can work."
"The mayor must be held to account and one of my first priorities is to work with colleagues from all parties to set up proper scrutiny systems," he said.
"It will be important as mayor that I have advisers and helpers who are not just councillors. And the new Localism Bill will allow me to bring into the cabinet a wider pool of talent."
Sir Peter stood down as the MP for Leicester South to run for mayor. But it'll be his experience from his years as council leader that means he'll hit the ground running.
Revisiting council plans
He's not going public quite yet on what we can expect in his first 100 days in office, but he has a plan and a change agenda.
"At the top of my agenda has got to be partnership, and working with business, the trade unions and all of those in the city to bring wealth and investment into Leicester."
The city council already plans to lose 1,000 jobs over the next few years because of coalition government-ordered spending cuts. Mayor Soulsby has hinted at revisiting council budget plans.
"There are some savage cuts being made in Leicester. I have given a firm understanding that I will re-examine those budget decisions. Protecting front-line services is a must," he added.
When it comes to scrutinising the mayor, he'll find his daughter Elly showing a particular close interest. She's also just been elected to a new role for the first time... as a city councillor.