Maldon plane crash victim was an RAF Lyneham pilot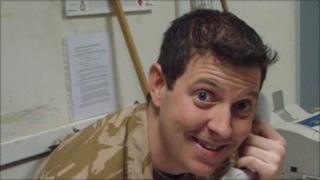 One of two men killed in a plane crash at a lake in Essex has been named as an RAF pilot from Gloucestershire.
An inquest has been opened and adjourned into the death of 33-year-old Flt Lt Simon Hulme who was based at RAF Lyneham in Wiltshire.
The bodies of Mr Hulme and another man were found in the light aircraft submerged in the the lake near Maldon.
The Russian-built Yak 52 was reported to have been flying with two other aircraft before the crash on 28 April.
Emergency services were called last Thursday by a member of the public and found the two-seater vintage aircraft in the lake with its tail about 10ft (3m) under water.
Experienced pilot
Flt Lt Hulme flew Hercules transport aircraft and had been in the Royal Air Force for 12 years on regular deployment to the Arabian Gulf and Afghanistan.
He was an experienced pilot and flying instructor.
A statement from RAF Lyneham described Simon as, "cheerful, enthusiastic and well-liked by all who knew him".
His parents have paid tribute to their only son.
They said he was a credit to them and it gave them comfort to know he died doing a job he loved.
An investigation by the Air Accidents Investigation Branch is continuing into the cause of the crash.