Fears about forest fire 'scale'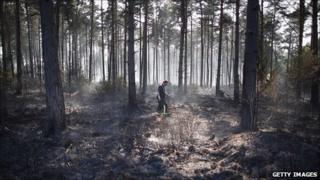 Hundreds of firefighters have spent days tackling forest fires which have left acres of blackened land in the UK and shocked authorities and conservation groups by their scale.
Firefighters from seven county forces are continuing to fight a fire in Swinley Forest, Berkshire, three days after it swept through acres of woodland.
The blaze is among numerous woodland fires which have broken out around the UK, surprising many with their scale and intensity.
David Williamson, the Forestry Commission's forest management director for south-east England, has been assessing the blaze at the forest, near Ascot.
"I've been in this post for 20 years and it is the worst fire I have seen in that time," he said.
"It came at the time of year when the risk of fires spreading is always greatest."
He said there was a great deal of foliage in the woods, such as grass, needles and bracken, and this had been drying out in the spring winds and sunshine.
"Spring is the most worrying time for fires," he added.
Mr Williamson said the time of year was one of several "different circumstances that came together", to see tinder-box dry conditions and flames up to 50ft (15 metres) sweep the forest.
The UK experienced its hottest April on record, and the 11th driest, the Met Office said. This created ideal conditions for the moorland fires as well as difficulties in extinguishing them.
Strong winds
Fire crews in Lancashire have spent seven days tackling forest blazes in the West Pennine Moors. About 80 firefighters tackled the latest fire at Pickup Bank, Darwen.
The service said a "combination of hot, dry weather and continuous and strong, prevailing winds" had caused the fire to continue and determined its response to it.
Such conditions have been cited by fire services fighting forest blazes across the UK, including in the Lake District, West Yorkshire and parts of the Scottish Highlands.
Mr Williamson said the fire in Swinley Forest had destroyed at least 40 hectares of woodland, which was the area of about 40 football pitches.
"This is young crops and young trees," he said. "But its very difficult to assess at the moment and it might well be double this."
He added it would take some time to know how many older trees had been killed.
The forest is part of a Special Protection Area (SPA) for rare birds - Dartford Warblers, Woodlarks and Nightjars. It is also an important conservation area for dragonfly and pond life.
Mr Williamson said: "Sadly any wildlife which wasn't able to flee the fire would have perished, as well as any eggs and young of ground-nesting birds."
He added that although the fire was "devastating in the short-term" some wildlife would find benefits, such as crows which were already picking up dead insects.
"Nature has an uncanny way of filling the void," he said.
But Natural England conservation officer Des Sussex said he expected some species of plants and wildlife to be lost to the forest for good.
"The vegetation is very dry and we often have small fires here which are probably not too much of a worry, but the scale of this is unprecedented for this area," he said.
Royal Berkshire Fire and Rescue Service said it was not known how the fires had been started, but warned people to take care when discarding cigarettes.
Mr Williamson said: "Many fires are started deliberately and this fire was almost certainly started by some form of human interaction."
He said rubbish, unauthorised barbecues and camp fires were among problems which ignited fires.
Meanwhile in Lancashire, crews have maintained a round-the-clock presence on moors near Belmont.
John Taylor, Lancashire Fire and Rescue Service spokesman, said a helicopter using infra-red cameras was helping to identify hot spots, which firefighters could then extinguish.
Mr Taylor said moorland fires were common in Lancashire, but the current situation was "exceptional".
"It is an annual occurrence here, but not on this scale," he said.
"Through the summer months there are grass fires, and it's not surprising as Lancashire is bordered by moorlands."
He said the cause of the fire was not known.
Mr Taylor said the fire crews had learnt how to deal with heathland fires as part of their training and were using a variety of methods to tackle them.
Crews were pumping water from Anglezarke Reservoir to temporary damns because the nearest water supply was about two miles away (3.2 km).
He said firefighters carrying water-filled backpacks were searching for "wisps of smoke" which indicated fires burning in peat moss up to 4ft (1.2 metres) below ground.
Anyone who saw a forest fire was urged to call 999 to report it and move away from the area.