Cambridge title for Prince William and Kate Middleton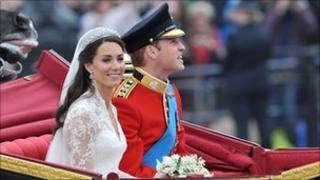 So now we know, Prince William and Kate Middleton are to have the title the Duke and Duchess of Cambridge.
It's an honour for the city at the heart of the Eastern region, and hopes are now high that the royal couple will make a visit to the University city one of their first.
Giving new titles to a member of the Royal Family on their wedding day is a long-standing tradition and although it was apparently a favourite, the choice came as a wedding day surprise to most people.
However, the Mayor of Cambridge, Councillor Sheila Stuart, was not so taken aback.
"I was absolutely delighted. We have been anticipating it," she said, "and we're delighted that they've now been named. We are absolutely thrilled and hope that they will pay us a visit as soon as possible. We will welcome them with open arms."
Immediately recognisable
So why Cambridge?
Well, Prince Charles attended Trinity and Prince Edward went to Jesus College there, while the Duke of Edinburgh only just stepped down as Chancellor of the University - so Prince William's father, uncle and grandfather have a close association with the city.
Also, the Dukedom of Cambridge was vacant and had been since its last incumbent died in 1904.
Royal historians, as well as the locals, seemed to approve of the choice, which combines a long royal tradition with an immediately recognisable place.
A city of antiquity with a huge historical heritage is clearly an association the Royal Family are happy with - and let's face it, only a place with cachet would be considered.
The city of Cambridge itself, already a worldwide brand, has now received an enormous fillip.