Thousands in England celebrate royal wedding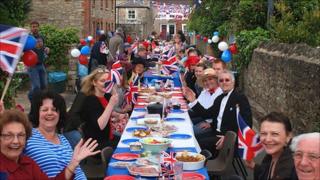 Hundreds of thousands of people have been celebrating the marriage of Prince William and Kate Middleton.
Large crowds gathered outside Westminster Abbey, where the couple exchanged wedding vows.
Parties have taken place across England, where councils handled more than 5,000 requests for road closures.
Prince William has been made the Duke of Cambridge and his new wife the Duchess of Cambridge.
He has also taken the titles Earl of Strathearn and Baron Carrickfergus.
The wedding was broadcast live on big screens across the country.
Police estimate a million people lined the procession route from the abbey to the palace. Thousands of people camped out overnight to try to get a good place.
Police have made 52 arrests in and outside the security zone and questioned masked protesters in central London.
Royal cake maker
A 21-gun salute fired from Coombe Hill, near Wendover in Buckinghamshire, marked the moment Prince William and his bride left Westminster Abbey after the ceremony.
The couple used an open-topped 1902 State Landau carriage for the procession after the service, the same used by the prince's parents for their wedding in 1981.
The royal wedding cake was made by Leicestershire businesswoman Fiona Cairns. She was commissioned to create a multi-tiered traditional fruit cake, decorated with sugar flowers.
Ms Cairns said she had made cakes for a few celebrities over the years, including Christmas cakes for Sir Paul McCartney, "but nothing as exciting as this".
Hertfordshire topped the list of street party requests with 298 submitted to the council for road closures. Surrey was second with 205, the Local Government Association revealed last week.
And thousands of other parties were held in homes, pubs and in gardens.
A day of celebrations was taking place in Kate Middleton's home village of Bucklebury in Berkshire.
The village green was dotted with marquees and Morris dancing took place to celebrate the occasion.
And a street party was held in Clarence Street in Southall, west London, to celebrate its connections with the royal bride.
Her grandfather Ron Goldsmith lived in the street with his five siblings and parents, Charlie and Edith, in the 1930s.
Thousands of revellers are at a three-day event at Clapham Common, with a giant television and entertainment.
Organisers created a "glamping" zone for luxury campers with 18ft (5.4m) teepees available equipped with sheepskin rugs and tables.
The wedding and procession to Buckingham Palace was shown on big screens around the country.
In Southampton city centre people were encouraged to dress in patriotic red, white and blue for the occasion.
And Leeds Castle in Kent, also showed the wedding on a big screen, followed by a screening of Mamma Mia.
Plymouth city centre's piazza was transformed into a street party, while hundreds of revellers are holding a fancy dress party on the restored £39m Grand Pier in Weston-super-Mare, Somerset.
One patriot in Merseyside vowed to party on, despite the theft of 50 royal flags from his home.
Bill Jenkins from Wavertree, Liverpool, said: "We're having a party for friends and family and like all true patriotic British people we're going to have a Chinese takeaway."
Meanwhile, a Manchester artist made his own tribute with a portrait of the couple made from sweets.
Mark Kennedy made it out of hundreds of the sweets but said making the tribute was not without its challenges.
"It was very difficult as some glues melted the sweets," he said.
A number of "alternative" public parties have been held across England, including an event by the Republican party in Holborn, London, where "democracy and people power" were celebrated.
Blackpool FC boss Ian Holloway, who met the prince when he watched a Seasiders' match at Bloomfield Road earlier in the Premier League season, had some words of advice for the royal couple.
"Be good to each other, because that helps," he said. Holloway added he would be missing the wedding because he would be taking a training session ahead of Saturday's home match against Stoke.
As events were held around England, holidaymakers at Golden Sands Holiday Park in Cresswell, Northumberland, began the day with a champagne breakfast.
Corgis with union jacks around their necks helped marked the occasion.
A mass picnic has been organised along the high street in Alcester, Warwickshire, while sailors from HMS Portland were attending street parties in Weymouth and Portland after their ship docked earlier.
Other couples have shared their wedding day with the royal pair.
Caroline Chadwick and her husband Trevor Bedsore got married at the Hadley Court Park Hotel in Shropshire, after first watching the royal wedding.