Baby's brother seeks John Darwin apology over false ID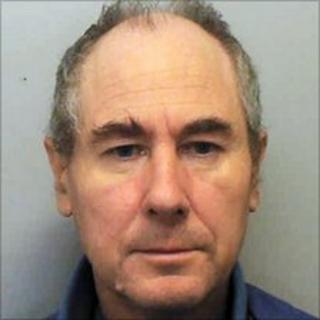 The brother of a dead baby whose identity was stolen by back-from-the-dead canoeist John Darwin has vowed to pursue the fraudster for an apology.
Darwin, who faked his own death in 2002, has complained to police of harassment by the family of John Jones, who died aged 34 days in 1950.
But Alf Jones, 54, has denied harassing Darwin, claiming he had only written a letter demanding an apology.
Mr Jones, from Sunderland, said Darwin had "deeply hurt" his family.
Darwin, who staged his own death in the North Sea off Seaton Carew near Hartlepool before fleeing to Panama, has been living in Easington Colliery, County Durham, since his release from prison in January.
He and his wife Anne were jailed in 2008 for fraud and deception after claiming £250,000 in insurance and pension cash.
Darwin came across the grave of the dead baby, who is buried in Sunderland Cemetery in Grangetown, while searching for names for his fake identity.
Construction worker Mr Jones, who has four sisters and two brothers, said he "wanted answers" from Darwin.
'Need closure'
He said he had discovered Darwin's address and had left a letter demanding a meeting.
He said: "I need answers as to why he did this to my family and he is the only one who can give them.
"He has got to be a man and face up to what he did to us. He cannot say this is a victimless crime.
"I know the area where he is living and I left a letter for him asking to meet. But the police have told me he won't do it.
"I won't give up. I and my family need closure and an apology for what he did."
A Durham Police spokeswoman said: "We can confirm we have received a complaint of harassment of a man from the Easington Colliery area.
"Initial inquiries suggest no offence has been committed at this time."
Darwin also turned down a request to talk to the Jones family as part of the Restorative Justice scheme, where offenders meet victims.
He was jailed for six years and three months on seven charges of deception.
His wife Anne was jailed for six-and-a-half years for six counts of fraud and nine of money laundering.
Both have been released on licence. They no longer live together.